Strawberry No Bake Cookies certainly look a little Valentine's Day festive – but let's be honest – these little suckers are so tasty they shouldn't be limited to one short holiday.
They might have been inspired by the pink heart shaped mold I found at Target recently – but you can make them any shape or just drop them onto your wax paper and call it a day like these classic No Bake Cookies.
These are the easiest cookies to make. As the name insinuates, you don't need to fire up the oven. Just put the peanut butter, agave syrup, and white chocolate into the microwave for 30 seconds, then stir the crushed freeze dries strawberries, vanilla, and oats in and TADA… cookies!
Freeze dried strawberries pack some amazing flavor and texture. All the water has been removed leaving behind intense strawberry flavor and crunch. <If you used to get the astronaut ice cream every science museum field trip in elementary school like me, it's THAT kind of crunch.>
The sweetness in these comes from agave syrup. Other no bake cookies typically use honey as the sweetener, but I didn't want the flavor of the honey to overpower the strawberry flavor. Highly recommend grabbing the agave syrup. Our body treats all these sugars the same – honey, agave, brown sugar, organic sugar, or any other sugar – I just picked agave because of it's neutral flavor and stickiness.
So add these 6 ingredients to your Aldi grocery list this weekend and wow everyone with your festive holiday treats next week! <Yep…. you can find all these ingredients at Aldi. Not sponsored. Just a fan of only taking 1 grocery trip per weekend.>
Hope you all enjoy!!!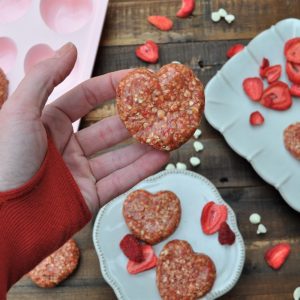 Strawberry No Bake Cookies
Ingredients
2/3

cup

peanut butter

creamy

1/2

cup

agave

1/2

cup

white chocolate chips

1

tsp

vanilla

1.2

oz

bag freeze dried strawberries

1 2/3

cup

quick oats
Instructions
In a microwave safe bowl, combine peanut butter, agave, and white chocolate chips. Microwave for 30 seconds. Whisk together.

Add vanilla. Whisk again.

Open the corner of the freeze dried strawberry bag – just a small amount. Then, crush the strawberries in the bag with a rolling pin or your hands. You want a powder with some small chunks.

Add entire bag of strawberry powder and oats – mix well with a spoon.

Drop onto a plate or cutting board. The consistency will be like play dough. Shape into whatever you desire.
Notes
How to Use:
Athletes: Nothing like something to help calm that need for sweets – this is a good balance of dessert with some redeeming nutritional qualities as well – healthy fats, whole grains, and fruit!
Healthy Eating: As I always say, enjoy whatever food makes you happy. If you want the real deal dessert, eat it and move on. But if you want to play around with a dessert that also packs a little extra nutrition, give these guys a whirl.
Kids: Strangely enough – my kids liked the freeze dried strawberries more than the cookies. But, they also gladly ate the cookies.
Other Thoughts:
I know it's a little annoying that I used agave in there – but you can find it at Aldi for a reasonable price. My reasoning here is that I didn't want the strong flavor of honey – yet it needs to be a sticky sweetener to hold things together. You could try honey, like I use in my No Bake Cookies, but it will change the flavor.

I froze half of these and that worked great too. They even taste great right out of the freezer.

Put in the refrigerator to set. They will remain sticky if you just leave them on the counter at room temperature. Store in the fridge too.

I have to imagine most nut butters would work in these too. I thought about using cashew butter – but Aldi doesn't sell that!

Store in the refrigerator.
My littlest cookie thief!