And just like that, it's officially chili season. Is that considered basic? I just recently googled basic to figure out why everyone was putting those basic gifs on all their pumpkin spice food and drink. Thank god my husband works with high school kids or my kids would be able to pull some serious fast ones over me in their teen years. #basic No, not right?! Anyways….. back to the important stuff, like this C H I L I!!!
When it comes to vegetarian protein options, you all have made it abundantly clear that lentils are far more acceptable than tofu. Like hands down, you love lentils but still aren't sold on tofu. So, I'll take that as a win and get you guys some more lentil recipes.
One of the most popular recipes on the blog is the red lentil, sweet potato, kale soup so I know you guys dig lentils + soup. And in a totally nerded out way, that makes me ridiculously happy. <<pushes glasses back up nose and snorts>>  You see, lentils are one of the cheapest yet most nutrient rich foods out there. They are a phenomenal source of protein, complex carbohydrates and iron. Ya hear that athletes?! Forget chocolate milk, we should all be eating lentils post workout for recovery. Alright, I get the logistics there are a little strange. But we can certainly include them in a recovery meal post training.
A big old bowl of this chili provides over half your daily iron needs, a third of your potassium needs, and a whopping 20 gm of plant based protein! This is like an endurance athletes dream meal….. if I do say so myself! Add some chopped avocado for some additional healthy fats and you are looking at nutritional perfection right here. <<read: sarcasm – nothing is perfect. our eating never has to be perfect. but feel free to be confident you nailed a meal with this one.>> 
This is pretty high in fiber – so if you're sensitive to higher fiber foods, cut back on your portion and serve it over some rice. Or, time this so it's on a recovery day when you don't have any high intensity training ahead of you. I already froze half this recipe, since I'm running the Columbus marathon next weekend, and subscribe to a super low fiber diet a few days before the race. Know your body. Know what works best and when. And, if you're not sure – shoot me a message. I love helping you figure that stuff out!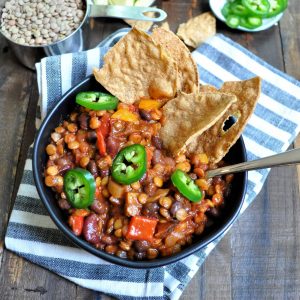 Lentil Chili
Servings
6
(approx. 1 1/2 cups of chili)
Ingredients
2

Tbsp

avocado oil

or oil of choice

1

red bell pepper

chopped

1

yellow bell pepper

chopped

1

jalapeno pepper

remove seeds and ribs, diced finely

1

onions

chopped

1/2

tsp

salt

2

Tbsp

chili powder

1

tsp

smoked paprika

2

cloves

garlic

pressed or minced

1

can

15 oz kidney beans, drained

1

can

15 oz black beans, drained

1

can

15 oz fired roasted tomatoes

1

can

15 oz tomato sauce - or 2 (8 oz) cans works fine too

2

cups

vegetable broth

1

cup

green lentils

dry

1/2

tsp

cinnamon
Optional Toppings:
avocado

diced

jalapeno

sliced

tortilla chips
Instructions
In a large pot, heat oil. Saute peppers, onions, and salt until softened.

Add chili powder, smoked paprika, and garlic. Stir and cook for 1 minute or until fragrant.

Add beans, tomatoes, tomato sauce, broth, lentils, and cinnamon to the pot. Stir.

Bring to a simmer. Cover and continue to simmer for 30-40 minutes, or until lentils are tender.
Notes
Other Thoughts:
Use any color bell peppers you want or have on hand - the two colors just look pretty.
If you're spicy foods averse, leave out the jalapeno. They're like a box of chocolates - you never know when you'll get a super spicy one.
Keeps well in the refrigerator for 4-5 days. Also freezes great for up to 3 months.
While messy, this is an awesome food for little guys. (leave out the jalapeno) They need the iron and get all the other veggies and beans cooked down nice and soft for gumming.
This is a crowd pleaser - vegan, gluten free, dairy free.
How-to-Use:
Athletes: Eat a big old bowl of this chili within an hour of a hard endurance training session to help speed recovery. Top with avocado to add some healthy fats to decrease post-exercise inflammation.
Healthy Eating: Try adding a meatless dinner in this week. (And, if you're already doing this - kudos to YOU!) Meatless meals with adequate plant protein sources are awesome for our heart health. Plus, they are typically lower in unhealthy fats - booyah!
Kids: Serve with tortilla chips and shredded cheese for the kids. Let them dip into the soup and sprinkle on the cheese. Or, try using the thick chili for "meat" on their nachos or chili. And, if you have a real superstar on your hands, let them have at a bowl as is!