After a resounding YES from all to the combination of roasted sweet potatoes + almond butter, I took it upon myself to make this dynamic duo into bars. Because who doesn't like a good bar?! And, I don't think you'll be disappointed.
The blender also makes things a tad bit easier. Throw all the ingredients except the dried cherries into the blender, turn it on, and you're done with the batter. Stir in the cherries. Pour into a pan. And POOF! You're ready for the oven.
The most planning this takes is making sure you have some cooked sweet potatoes around. Bake a couple extra when you're making dinner. Throw them in before you hop in the shower some morning. Try out your new pressure cooker. Heck, even buy some canned yams!
A quick once over of the recipes around here, you can tell we've got a little <thing> for chocolate. So here you go, you non-chocolate lovers – a slightly sweet, slightly savory bar you can enjoy all day long.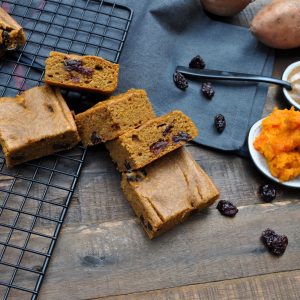 Sweet Potato Almond Butter Bars
Ingredients
1

cup

baked sweet potato

1/2

cup

almond butter

1/3

cup

maple syrup

2

eggs

1

cup

oats

1

tsp

vanilla

1

tsp

cinnamon

1/4

tsp

salt

1/2

tsp

baking soda

1/3

cup

dried cherries
Instructions
Preheat oven to 375 degrees.

Grab your 8x8 inch pan and line with parchment paper - or grease it super well.

Put all the ingredients except the dried cherries in the blender. Blend well.

Stir in the cherries. Pour into your prepared pan.

Bake for 22 - 25 minutes or until a toothpick inserted into the middle comes out clean.
Notes
Other Thoughts:
Use gluten-free oats, if needed.
Any type of dried fruit would be awesome in these - you guys just know my obsession with tart cherries! Use what you have on hand.
How-to-Use:
Athletes: One square provides 150% of your daily needs for Vitamin A <great antioxidant> +  20 gm complex carbohydrates + 7 gm healthy fats + 5 gm protein. All of these things makes these bars an awesome snack throughout the day or post workout.
Healthy Eating: Full of complex carbohydrates, healthy unsaturated fats, and antioxidants adding a square into your day as a snack to hold you over between meals, satisfy your snack attack, and manage your appetite between meals.
Kids: My two year old helped herself to these gems right off the table as I was trying to photograph them and came back for another. So while they'll never pass for a cookie, I do think they'll pass for a great snack or addition to lunchboxes soon!