There are some foods out there that are just so unequivocally great for runners that I just can't stop talking about them. I'm sure none of you are surprised I'm bringing back the tart cherries. If you want to learn ALL about the benefits of tart cherries, check out this blog post for details. If you want the clif notes version, here it is: tart cherries are a crazy source of antioxidants and anti-inflammatory polyphenols which studies show may help both strength and endurance athletes by reducing muscle damage, reducing pain levels, improving recovery, bolstering the immune system, and improving sleep. 
But above all else, they taste amazing. I've talked about dried tart cherries, tart cherry juice, and frozen tart cherries added to smoothies around here before. But, I've got a brand new use and recipe for you that will knock your socks off! Tart Cherry Chia Jam.
I know I don't talk about chia seeds much around here – but that needs to change because they are also an amazing source of nutrition that all runners could benefit from on the daily. Chia seeds are a tremendous source of plant based (ALA) omega 3 fatty acids. Omega 3 fatty acids decrease inflammation in our bodies which is helpful for muscle recovery in athletes. Plus, in combination with strength training and adequate protein intake, omega 3's can help stimulate new muscle growth via muscle protein synthesis. Chia seeds are also high in soluble fiber, which means they absorb liquids. This means they work great in jams to thicken and bind everything together.
This recipe is out of this world easy. The hardest part will be finding the frozen tart cherries! Many of you told me your grocery store sells them. I found them at a local Amish market. You can also buy them online!
And, if you really wanna kick this up a notch, top my Baked Oatmeal Cups with this jam before baking. Get ready for a SOLID start to your day right here!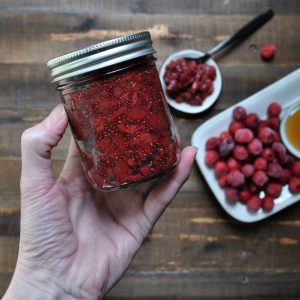 Tart Cherry Chia Jam
Ingredients
2

cups

frozen tart cherries

3

Tbsp

maple syrup

1

Tbsp

water

2

Tbsp

chia seeds

1

tsp

lemon juice

1

tsp

vanilla
Instructions
In a small saucepan, combine tart cherries, maple syrup, and water. Cover saucepan and bring to a boil over medium heat.

Remove lid and reduce to a simmer for 10-12 minutes (or until cherries start to break apart.)

Remove from heat. Add chia seeds, lemon juice, and vanilla.

Place in a mason jar or small container. Refrigerate. (Jam will thicken as it sits.)
Notes
Other Thoughts:
Can't find tart cherries, or want to try another flavor jam? Substitute any other frozen fruit and follow the same directions. If it is a sweeter fruit, you may not need as much maple syrup!
Keep in the fridge for a few weeks in an airtight container.
Use as jam on toast or PB&J sandwiches. Add to yogurt or oatmeal. Eat it by the spoonful. I won't judge ya!
How-to-Use:
Athletes: Top your oatmeal cups, overnight oats, or toast with Tart Cherry Chia Jam for additional recovery benefits from both the tart cherries (antioxidants and polyphenols) + the chia seeds (omega-3, anti-inflammatory). This is basically as close to a runner's recovery superfood as you're gonna get.
Healthy Eating: We know that to stay full and satisfied between meals we need to enjoy our food AND feel satiated. Cue this Tart Cherry Chia Jam for all the flavor + the satiety inducing chia seeds. Chia seeds are high in soluble fiber, which absorbs water and slows down digestion. Studies show eating more chia seeds keeps us fuller for longer.
Kids: Let your kiddos help make this jam. Scooping it into the mason jar was a fan favorite task around here. This also makes a mean almond butter and jelly sandwich. It also doubles as a pancake topper that is out of this world. So many options!!!