Who said eating well has to taste boring?! Cue this soup. Full of flavor, balanced nutrition, and antioxidants to fuel you up right.
This soup was inspired by a Curry Butternut Squash Soup I posted around this time last year. Clearly I am serially inspired by Aldi's seasonal stocking of frozen butternut squash. Not only did I want it to pack the flavor, but it also needed to pack all the nutrition.
Red Lentils: It's not a secret around here that I'm a big fan of red lentils. One serving of this soup packs a hefty dose of plant based protein, 20% of your daily iron needs, some complex carbohydrates, and potassium. When you blend up the soup, these just add a thickness and creaminess to the soup without even knowing they are there.
Butternut Squash: This is an unbelievably good source of antioxidants. Exercise is great for our health – but it does create something called free radicals. In order to turn these harmful cells back into helpful cells, we need antioxidants. A serving of this soup provides over 150% of your daily vitamin A needs – which is a great antioxidant.
Ginger: Ginger has been used for thousands of years to help with nausea, fighting colds, reducing pain, and as an anti inflammatory agent. Whether these claims pan out in science doesn't negate the fact that ginger is a powerful antioxidant to help with recovery.
Peanuts: We talk a lot about the importance of protein and carbohydrates in endurance athlete's nutrition. But let's not forget about the importance of healthy fats to promote fullness, healthy hormone production, and recovery.
This soup is plant based and vegan. Whether you choose to forgo animal products or not, I highly encourage everyone to add more plants into their diet. And, I think this recipe just might be a great way to sneak more plant based meals into you and your family's life.
This is soup is also a super quick recipe to make – throw everything into a pot – simmer – blend. DONE! Great for a weeknight meal or meal prep. Hope you enjoy as much as we do!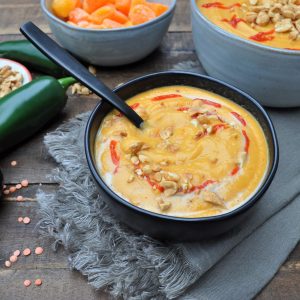 Thai Peanut Butternut Squash Soup
Servings
6
(1 1/2 cup servings)
Ingredients
2

Tbsp

avocado oil

or other oil

2

10 oz packages frozen butternut squash, steamed

1

onion

diced

1

jalapeno

diced

1/2

Tbsp

fresh ginger

chopped

1/2

tsp

salt

32

oz

vegetable broth

1

cup

peanuts

dry roasted

1

cup

red lentils

dry

1/2

cup

low fat coconut milk

2

– 3 Tbsp red curry paste

I used 2

juice of 1 lime

Top with: crushed peanuts

sriracha, and more coconut milk, if desired
Instructions
In a large pot, heat oil over medium heat. Add butternut squash, onion, jalapeno, ginger, and salt. Saute for 5 – 7 minutes or until vegetables are soft.

Add broth, peanuts, and lentils. Stir. Cover and bring to a boil. Reduce to a simmer for 20 minutes, or until lentils are cooked through.

Turn off heat. Add coconut milk, curry paste, and lime juice. Stir a little. Transfer in batches to a blender or food processor (or you can use an immersion blender) until all the soup is pureed.

Top with crushed peanuts and a drizzle of Sriracha – plus or minus a coconut milk drizzle. (you can eat it hot or cold)
Notes
How to Use:
Athletes: Full of antioxidants, a serving of this soup also provides 20 gm protein and some complex carbohydrates – but you'll likely need to add more if you're an endurance athlete. Try pairing with a whole grain grilled cheese sandwich or serve the soup over quinoa or brown rice.
Healthy Eating: This soup is packed full of satiating protein, healthy fats, and complex carbs – you may be just fine with a bowl of soup for lunch – or you might want to pair with a piece of fruit.
Kids: Welp. I'm not sure how yours will feel about this flavorful soup. I didn't include the seeds of the jalapeno to make sure it wasn't too spicy- and one kid ate it, one didn't.
Other Thoughts:
If there is a peanut allergy, this would be delicious with cashews instead.
If you don't have frozen butternut squash, you could use a large butternut squash. Peel and dice into small chunks. You'll need approximately 3 cups. Then, cook it longer in the first step.
This keeps well in the fridge. If you want it thinner, add a little coconut milk before you reheat it.