Hands down one of my favorite recipes, and all of you who have tried it, agree. All the flavor. All the color. All the nutrition we need at lunch or dinner. And, it keeps well all week for meal prep.
This recipe is vegan as written, but you can also change it up to add some extra protein. I've added air-fried tofu, shrimp, and chicken. All worked fantastically!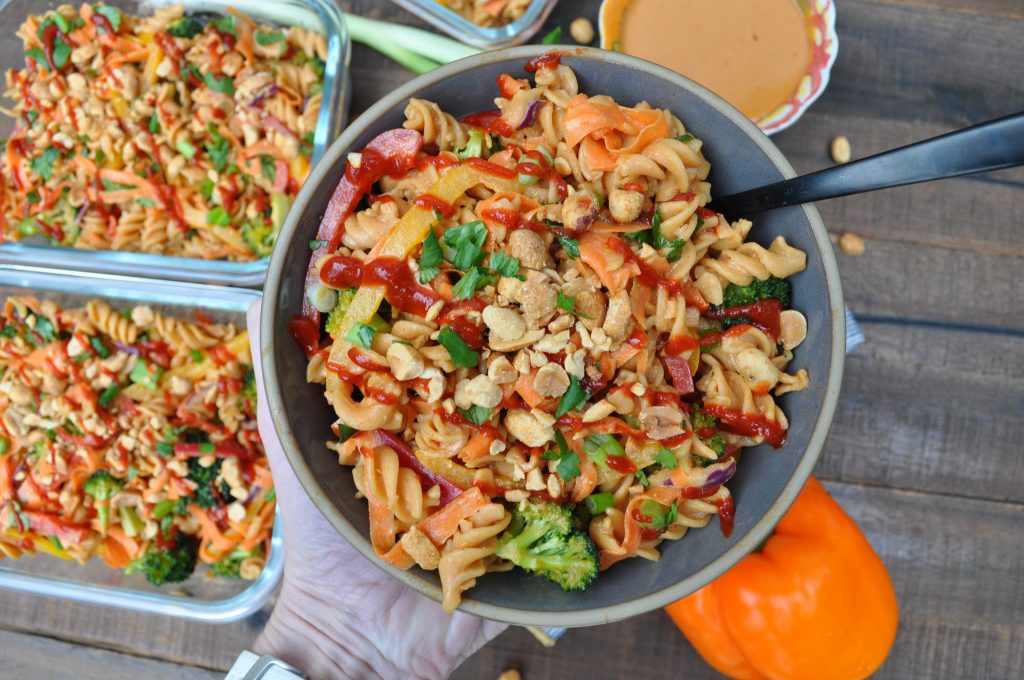 If you've been a long-time follower of Featherstone Nutrition, you know I'm a huge fan of red lentil pasta for daily meals. It is high in protein, moderate in fiber, and crazy high in iron. And, as long as you don't overcook it, it has a great hearty texture.
Let's chat about bean-based pasta for a moment. These days we can find pasta made from just about anything – chickpeas, black beans, edamame, palm trees, green lentils, red lentils, or a mix of it all. I highly recommend checking the fiber content of your choice and just make sure that it's not more than you can handle. Red lentil is usually a moderate amount of fiber vs others containing a crap ton. Speaking of crap, know your fiber limits. And, perhaps don't eat this for dinner the night before long runs and don't carb load with it!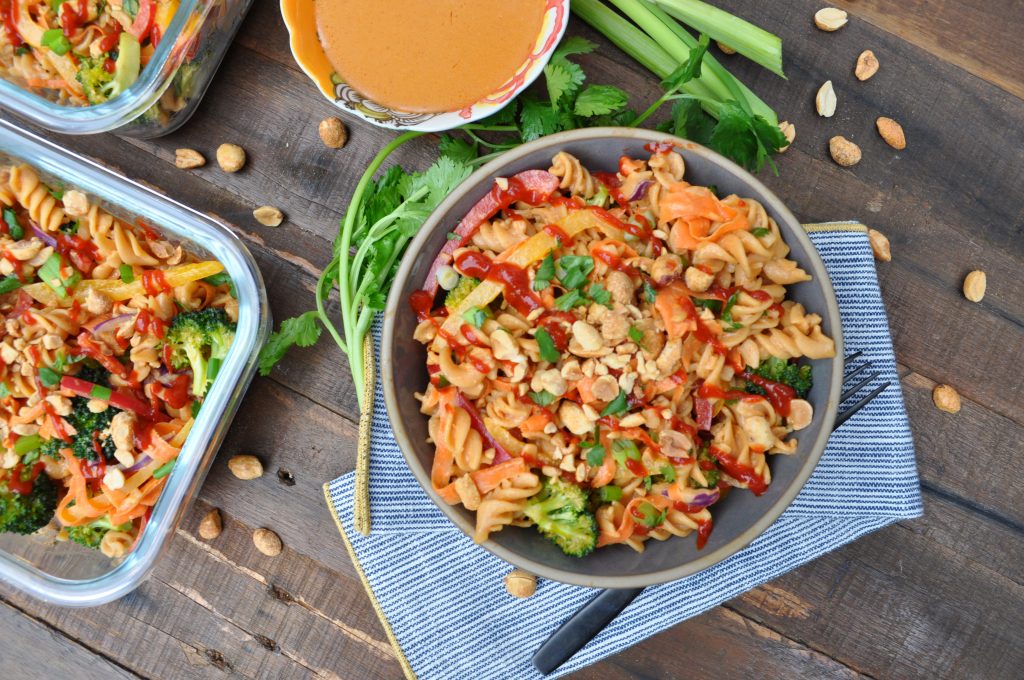 The peanut sauce is very delicious! It's also a little thick. If you prefer a thinner sauce, add more water. If you like things hot, add more sriracha. And, don't forget that last-minute sprinkle of crushed peanuts – it's worth it!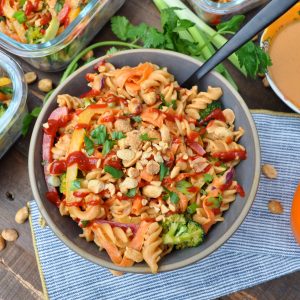 Thai Peanut Pasta Salad
Ingredients
12

oz

lentil pasta

<or pasta of choice>

1½

cups

carrots, shredded

1

cup

bell peppers, sliced

1

cup

broccoli, chopped

½

cup

red cabbage, sliced

½

cup

cilantro, chopped
Peanut Sauce
½

cup

peanut butter

1/4

cup

tamari or soy sauce

2

tbsp

rice vinegar

2

tsp

sriracha

1

tbsp

lime juice

2

tsp

garlic, minced

2

tsp

ginger, minced

¼

cup

water

extra

crushed peanuts

extra

sriracha
Optional
8

oz

chicken, shrimp or tofu
Instructions
Cook pasta according to the directions on the box. If using a bean-based pasta, do not overcook & be sure to rinse after cooking.

Chop all your veggies & put them in a large bowl. Add chopped cilantro. Add the cooked pasta.

In a small bowl, mix together all the peanut sauce ingredients except water. Then, add water as needed to get the consistency of honey.

Pour peanut sauce over pasta & veggies. Toss carefully to combine. Lentil pasta breaks apart easily if stirred too crazy.

For meal prep, split into 4 portions. Top with crushed peanuts & sriracha before eating.
Notes
Tips:
This recipe is vegan, vegetarian, and gluten-free as written. Feel free to use regular or whole wheat pasta + add a protein <shrimp, chicken or tofu work great.> You can also switch up the veggies - use whatever you like or have in the fridge - just be sure to include 4 cups of veggies. Want more veggies?! Do it! But you may want to double the sauce.
Time-saver hack: buy a bag of coleslaw mix or broccoli slaw mix and don't even cut up any veggies!
If you don't have fresh ginger, you can sub ground ginger - use 1/4 - 1/2 teaspoon in this recipe.
How to Use:
For athletes: This recipe is packed full of everything you need for a meal - protein, carbs & healthy fat. If you are in higher training, you may need more than 1 serving or add extra carbs on the side.
For healthy eating: This recipe is what healthy eating dreams are made of - a one-bowl meal including your carbs, protein, and fat. You can use this as a make-ahead dinner for busy weekday nights or make it as meal prep for lunches for the week.
Kids: Let the kids choose what veggies they want to add into this. If the sriracha is too much for them, you can always omit it from the recipe and just add it as a drizzle on top of yours.