What says summertime more than a barbeque?! Fire Up the Barbie!! And, the options are endless for fun, exciting summertime meals. It's also pretty handy to be outside making dinner on the grill while the kids play in the backyard.
All of you who have been around Featherstone Nutrition from the beginning may notice that I do not have many red meat recipes here. This is mostly related to personal preference but when I found out my ferritin and iron status wasn't where it needed to be for my running performance, I started adding more red meat into the rotation to up my iron intake. I prefer leaner cuts of grass-fed beef like Australian grass-fed sirloin and that's what I used for these kabobs.
Given that I am not an innate red meat lover, I prefer my red meat to have all the marinade flavors vs just salt/pepper. So this recipe will give you that! A TON of flavor from the marinade plus this recipe uses Coca-Cola, to give a hint of sweetness while also tenderizing the meat, giving it a nice caramelization after grilling the kabobs. <so don't use diet coke!>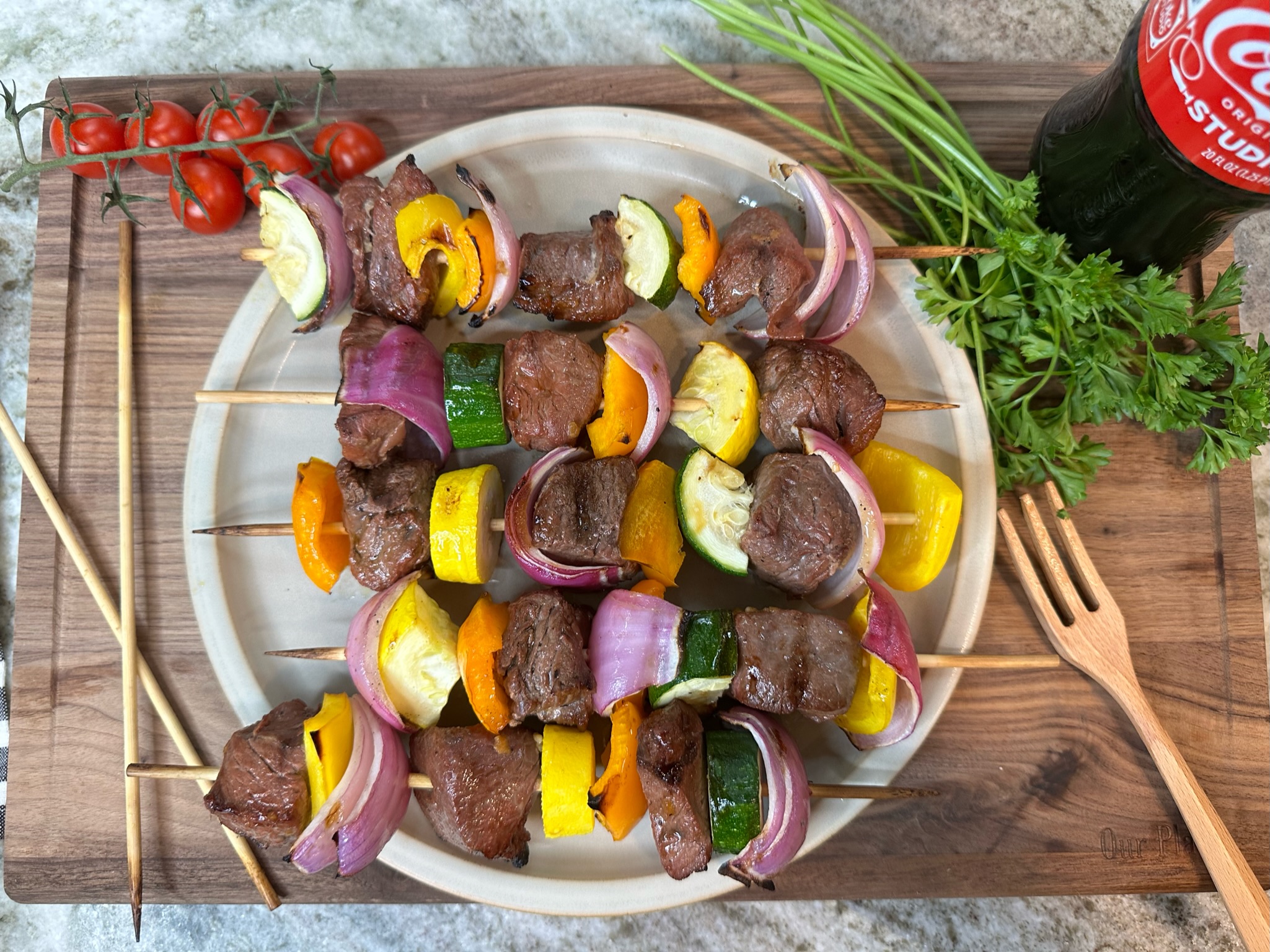 Toss the chunks of steak into the marinade the night before you plan to grill them for the most amazing flavor. Forgot?! Marinating for 8 hours should do the trick too. Before you're ready to grill, simply cut up your veggies and assemble your kabobs. Tip – if you are using wood skewers – soak them before assembling your skewers! Use your favorite veggies. Just be sure to cut them all in similar sized chunks so they all cook evenly together while grilling.
Now, we all know veggies & meat don't make a complete meal. Cook some rice for the side (or make pasta, potatoes, or whatever carb you prefer) and make a quick greens salad or grill some corn on the cob as a side. And, enjoy this classic summer meal!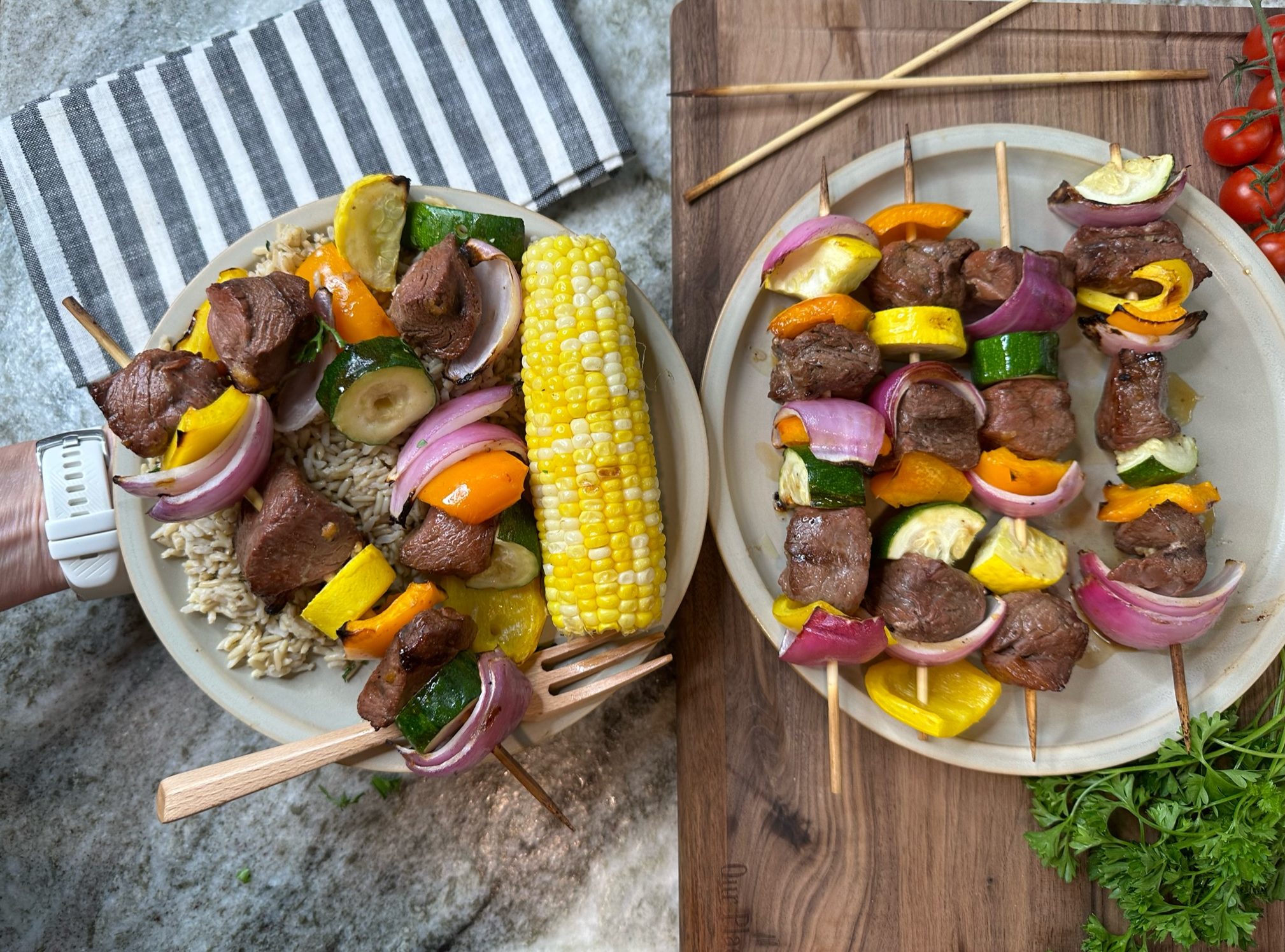 These kabobs were a HUGE hit at our house – we hope you enjoy them just as much!
The Best Steak Kabobs
Ingredients
1.5

lb

top sirloin steak

Australian Grass-fed.

2

bell peppers

1

zucchini or summer squash

1

red onion

avocado oil or spray

salt & pepper to taste
Marinade
½

cup

soy sauce

4

garlic cloves, pressed

1

tsp

onion powder

4

tbsp

Worcestershire sauce

1

tbsp

dijon mustard

½

cup

Coca Cola

1

lemon, juiced

½

tsp

salt

¼

tsp

pepper
Instructions
Combine all marinade ingredients into a gallon ziplock bag. Cut sirloin into 1½ inch cubes. Place sirloin cubes into marinade bag. Remove excess air. Make sure all the beef is covered in the marinade. Place ziplock bag in the refrigerator for 8 hours or overnight.

Cut vegetables into 1½ inch chunks. Drain marinade from ziplock bag. Assemble kabobs by alternating vegetables and steak. There should be enough to make 8 kabobs with 2-3 pieces of meat per kabob.

Heat grill to 400-450℉. Spray kabobs with avocado oil <or drizzle oil> before placing on grill. Add a little salt & pepper to taste, if desired. Grill kabobs for 12-15 minutes, turning 2-4 times while cooking. Keep the grill covered while cooking.

Use a meat thermometer to check for doneness. Cook to 135℉ for medium-rare, 145℉ for medium, 150℉ for medium-well. Serve with rice or pasta and more veggies, like corn on the cob or a green salad.
Notes
For athletes: Enjoy these <2 - 4 kabobs> for a main dish and be sure to add enough rice, pasta, etc. on the side to meet those carbohydrate needs. For healthy eating: Enjoy 2 - 3 kabobs + add 1-2 servings of rice, pasta, etc., and a big side salad. For kids: They may need help with the skewers but will enjoy this yummy meal and/or the rice/pasta on the side!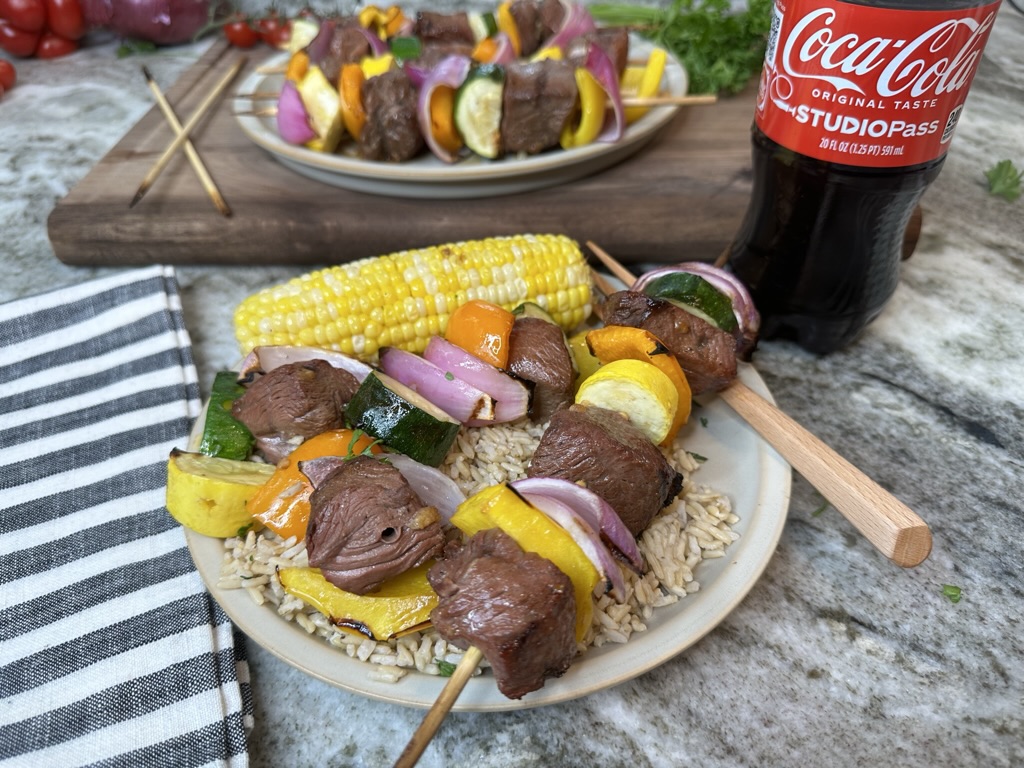 In the market for a new grill?! It may be your lucky day! This post is brought to you by Coca-Cola, Pictsweet Farms, Go Grassfed, and the Independent Grocers Alliance and they are giving away a $1000 Traeger Grill to one lucky winner. Enter here to win or tag this recipe or your favorite grilled meal on social media with #IGAgrillgiveaway. <Contest runs for the month of July 2023>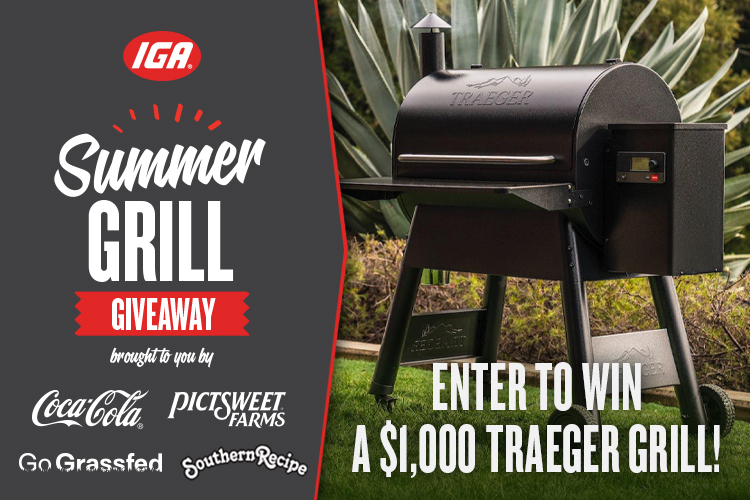 Sponsored by The Coca-Cola Company, the Independent Grocers Alliance, Go Grassfed and Pictsweet Farms