Whether you are dairy-free, vegan, or just looking for a change – this lasagna recipe needs to meet your dinner table! This lasagna uses a faux ricotta cheese made from tofu and hummus. Sounds strange – it's not, I promise.
The Vegan Stuffed Shells are a huge hit around here. But, some of you have mentioned that it's hard to find the shells in these COVID days. And, if you can find them, that they're a pain to stuff. Lasagna to the rescue!!!
Packed full of protein – 18 gm of plant based protein per serving – from the tofu, hummus, and even the noodles. <that's right – wheat contains protein too!> A recent poll told me that only about 50% of you eat tofu on the regular. Whether you are a tofu eater or not, you should give this a try. In our experience, meat eaters are very welcoming to this meal.
This lasagna is also packed full of vegetables because nobody likes a wimpy lasagna. You'll saute the carrots, zucchini, and onions – then add spinach – and stir this mixture into the faux ricotta. Feel free to mix it up and use whatever vegetables you have or like. <mushrooms, butternut squash, summer squash, green beans – get crazy!>
This will keep great in the refrigerator for 5 – 7 days so get ready for some delicious leftovers. When you reheat, add a little extra sauce to keep things saucy.
It's not the prettiest meal ever – but it's super delicious, satisfying, and balanced. Fuel it up!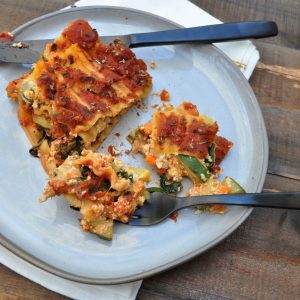 Vegan Vegetable Lasagna
Ingredients
2

Tbsp

oil

1

onion

diced

2

large carrots

diced

1

large zucchini

diced

1/4

tsp

salt

5

oz

fresh spinach

14

oz

tofu

drained

8

oz

garlic hummus

9

no bake lasagna noodles

25

oz

jar of your favorite tomato sauce
Instructions
Preheat oven to 350 degrees.

In a large skillet, heat oil over medium heat. Add chopped veggies - zucchini, onion, and carrots. Saute for 5 minutes, stirring frequently. Add salt and fresh spinach. Cook until spinach is wilted, 1 - 2 minutes.

In a large bowl, mix together tofu & hummus - until it resembles the texture of ricotta cheese. Add vegetable mixture and stir.

In a 9 x 13 inch pan, spread 3/4 cup of sauce. Top with 3 no bake lasagna noodles. Top this with 1/2 the tofu + veggie mixture. Spread 1 cup of sauce over this. Top with 3 more noodles. Top this with remaining tofu + veggie mixture. Top with 3 more noodles. Top this with remaining sauce.

Cover tightly with foil.

Bake for 50 - 55 minutes covered. Allow to sit for 5 - 10 minutes before serving.
Notes
How-to-Use:
Athletes: This recipe is a great way to get more vegetables into your day without even realizing that you are eating more vegetables. <Win!> I'd highly recommend if you're training hard – eat 1/6th of this lasagna PLUS more carbs. Eat some fruit or bread or something on the side.
Healthy Eating: The theory of volumetrics in eating is a tried and true way to help us stay satisfied with less food. What is volumetrics? When we augment macronutrient dense foods with lots of vegetables, we can eat a large portion of food for less total energy. Our eyes and stomachs are satisfied! This lasagna is a great example of this concept. A massive 1/6th portion of this lasagna has 330 balanced calories – 11 gm fat, 40 gm carbs, 18 gm protein.
Kids: We had one successful attempt on this recipe for our 2 year old. She wasn't sold. She's also not accepting the color green in her diet these days, so I suppose we should try again soon. Remember – exposure is incredibly important with kids. Put some on their plate. Even if they don't try it, it's still great exposure because one day they WILL try it.
Other Thoughts:
No need to press the tofu. The extra moisture is needed to soften the no bake noodles while cooking.
You can use boiled lasagna noodles. Boil them according to the package and then assemble. DO press the tofu to squeeze extra moisture out of it if pre-cooking your noodles. Cook for 20 – 25 minutes.
You can use whatever lasagna noodles you want – white, whole wheat, gluten free. Just follow the above directions if you need to bake the noodles first.