I don't care how you eat – animals or no animals. You have to try these. They are ridiculous.
We are an 'eat everything' type of family but I tend to favor plant based meals over anything else. Now a lot of the people eating with me, don't agree with me on this. So, I am always trying to come up with plant based meals that please everyone. And this one completely fit that bill!
Even if you are a tofu skeptic, you have to try this. Promise you won't even know it's tofu. When you crumble it finely and mix it with the secret ingredient…. hummus …. it turns into a delicious, easy, yet magical filling that totally passes for your typically ricotta cheese filling. Yep – I said it. Tofu passes for cheese in this recipe. And, it does it REALLY well.
If you're going to spend the time to make stuffed shells, I want you to stuff those bad boys with everything to make it a balanced meal. <<Insert all the veggies>> These guys have their fair share of mushrooms and spinach sauteed down with the onion and garlic to add some serious flavor, texture, and nutrition to these stuffed shells. For a meatier texture, I prefer the baby bella mushrooms from Aldi.
It's a solid possibility that I told no one these weren't our 'traditional' stuffed shells. And, it's a guarantee that no one questioned them. Lemme know how these go over in your house!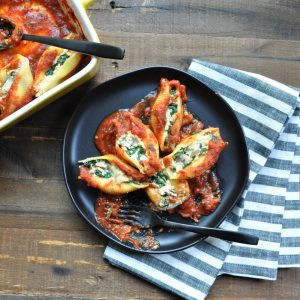 Vegan Veggie Stuffed Shells
Servings
26
shells (4 shells/serving)
Ingredients
26

jumbo shells

approximately 2/3 of a box, cooked

1

jar

25 oz tomato sauce, your favorite (I used Aldi's Tomato Basil)

2

Tbsp

avocado oil

or oil of choice

3

garlic cloves

pressed or minced

1

onion

diced

5

oz

fresh spinach

8

oz

mushrooms

diced (I love baby bella)

1/4

tsp

salt

1/8

tsp

pepper

1

block of firm tofu

pressed and crumbled

3/4

cup

hummus

I like the classic flavor, but garlic would be good too
Instructions
Cook the jumbo shells as directed on the box. Rinse with cold water and set aside.

Heat a saute pan with 2 Tbsp oil over medium heat, saute onions and mushrooms until soft. Add garlic. Saute until fragrant. Add spinach. Saute until wilted. At the end, add salt and pepper. Set aside.

In a medium bowl, crumble pressed tofu to resemble the consistency of ricotta cheese. (To press the tofu, place between two towels. Put a heavy can on top and let it sit for as long as you remember. Thirty minutes to hours is good)

Mix hummus into crumbled tofu. Mix in veggies.

In a 9x13 inch pan, pour 1/3 of the jar of sauce and spread evenly.

Stuff each shell with 2 Tbsp of tofu/veggie mixture. Place each shell into the pan. Continue until all the shells and filling are used up. Pour the rest of the sauce over the shells.

Cover the dish with foil and bake at 350 degrees for 30-35 minutes or until the sauce is bubbly and the shells look steaming hot.
Notes
How-to-Use:
Athletes: 4 shells have 20 grams of protein - perfect for post exercise recovery nutrition. But, please, don't stop at 4 shells! You can certainly have more. Listen to your body and eat until satisfied.
Healthy Eating: Consider these everything you need at a meal all wrapped up in one. (One cute little noodle that is!) Seriously - these are packed with plant based protein and vegetables with a side of carbohydrates. Absolutely perfectly balanced!
Kids: Are your kids stuffed shell fans? I promise they won't have a clue these don't have cheese. Not a stuffed shells fan? Put one on their plate with something they do enjoy. Exposure is a huge part of getting kids to accept new foods.
Other Thoughts:
You could easily make these ahead of time - or the filling ahead of time. Really, they're ideal for meal prep!
Don't like mushrooms? Add a different vegetable instead.
My recipe made exactly 26 super stuffed shells. I couldn't quite fit them into my 9x13 inch pan in an aesthetically pleasing way. So, I put 6 in a smaller dish, It's up to you how you finagle yours.