One thing I hear on repeat from clients is that they want to make eating well easier. Less time. More automatic. Less thought. I can completely appreciate this and hope to help out with at least one meal a day – with these lunch meal prep ideas. The goal is to meet all your nutrition needs in once dish – carbs, protein, healthy fats. The perfect balance for your active life. And…. it's gotta taste great too.
First up is this Winter Salad.
Ain't nobody got time for hangries. So these meals are balanced to keep you fueled up well no matter what your training holds.
Complex carbohydrates have the staying power to fuel and sustain that fullness factor. This salad has farro – a whole grain wheat kernel – that is hands down my favorite whole grain. Plus, more complex carbohydrates from edamame.
Protein is completely necessary to keep us full and maintain muscle mass throughout training. This salad meets those needs without adding meat. All these plant based ingredients add up to a solid amount of protein – edamame, farro, pecans, brussels, and goat cheese.
Healthy fats also help keep us full and help decrease inflammation in our bodies. The pecans and olive/avocado oils do this salad up right.
So get all your ingredients together and ready to toss together….
It will take a little time to roast the Brussels sprouts and cook the farro – but promise it's worth it! And, if you want to do this even more quickly – check out the 'Other Thoughts' for time saving short cuts.
Also if you don't like one of these ingredients, I have other substitutions listed in the recipe. Use what you like. Use what you've got in the house. It will still be delicious!
Another goal of these meal prep lunches is that they are hardy enough to withstand sitting in the refrigerator for a few days. I'm a real weirdo about food getting funky in the fridge. So, I promise this salad will be as amazing on day 3 as day 0.
I like the 4 cup glass containers for meal prep. I put 2 1/2 – 3 cups of this salad in the bowls for lunches and popped them in the fridge. It's amazing to just eat cold. I kept mine in the car one day and ate it slightly frozen <it is a little chilly here> and it was still pretty fantastic!
Plus…. make yourself a dish to eat now because you're going to want some asap.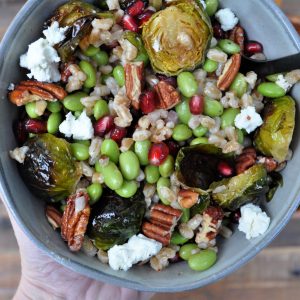 Winter Meal Prep Salad
Ingredients
1

cup

farro

dry (sub: quinoa or brown rice)

2 - 3

cups

broth

sub: water

1 1/2 - 2

# Brussels sprouts

raw - 1 bag is usually 16 oz = 1# (sub: steamer bag of Brussels sprouts - skip the roasting step)

avocado oil

1/2

cup

pecans

sub: pistachios or walnuts

1/2 - 1

cup

pomegranate seeds

from 1 fruit (sub: dried cranberries or dried tart cherries)

1 1/2

cups

edamame

steamed (sub: black beans or chickpeas)

4

oz

goat cheese

sub: feta cheese
DRESSING
1/4

cup

apple cider vinegar

1/4

cup

avocado or olive oil

2

small shallots

diced (sub: 1/2 red onion + 1/2 clove garlic)

2

Tbsp

Dijon mustard

1

Tbsp

honey

dash of salt/pepper
Instructions
You will want to cook the farro and roast the Brussels sprouts at the same time, to minimize prep time. Preheat oven to 425 degrees. Place halved Brussels sprouts on a baking tray, drizzle with 2 Tbsp avocado oil, sprinkle with a little salt and pepper. Bake for 20 minutes, flip and bake another 20 minutes or until browned and soft.

As Brussels are roasting, put farro in a medium sauce pan and cover with broth. Bring to a boil. Reduce to a simmer and cook for 25 - 30 minutes or until cooked through. Drain off any remaining broth.

As this is all cooking, get the pomegranate seeds out. There's no easy way around this - it's always a pain, unless you buy them already out of the fruit.

Prepare the dressing in a mason jar or container with a lid. Add all ingredients and shake.

Now you're ready to put this salad together. Combine the farro, brussels, pecans, pomegranate, edamame, cheese and dressing together. Combine.

Portion into containers for the week. This salad will keep for 3 - 5 days in the refrigerator.
Notes
Other Thoughts:
SHORTCUT VERSION: use steamer bags of brussels sprouts. buy frozen, pre-cooked whole grain mix. buy pomegranates that are already out of the fruit.
This recipe is inspired by the Run Fast, Eat Slow cookbook DIY grain salad. Giving genius credit, where credit is due! I'd love to see more people using it for meal prep all week - and rounding it out to be balanced in carbs, protein, and healthy fats to make it all you need for lunch.
Farro is essentially a kernel of wheat - if you need gluten-free, sub in quinoa.
This is super forgiving and easily adaptable. See the recipe for substitution ideas.
How-to-Use:
Athletes: All the nutrients you need to refuel mid-day. Adjust the serving to your hunger and activity level.
Healthy Eating: Everything you need in one salad. Protein. Carbs. Healthy Fats. Wow!!! Feel free to add even more veggies if you want!
Kids: My kiddos like the elements but don't necessarily appreciate it all mixed together. Separate it out or allow them to help prepare the different ingredients.