It's no secret that we all love two things: easy dinner recipes & sweet treats with a nutritional punch. <<ok, perhaps a third: running.>> If you have made my Monster Bar Granola Bars, I know you have sampled some of that dough before baking like I always do. It's delicious. Then, I recently made my No Bake Chocolate Peanut Butter Pretzel Bars and had this epiphany. What if we didn't cook the granola bar dough – and added the peanut butter layer from the pretzel bars – and topped it with chocolate- and froze it.
And here we are, folks. It was indeed a genius idea if I do say so myself. So delicious that I needed to share it with you all asap.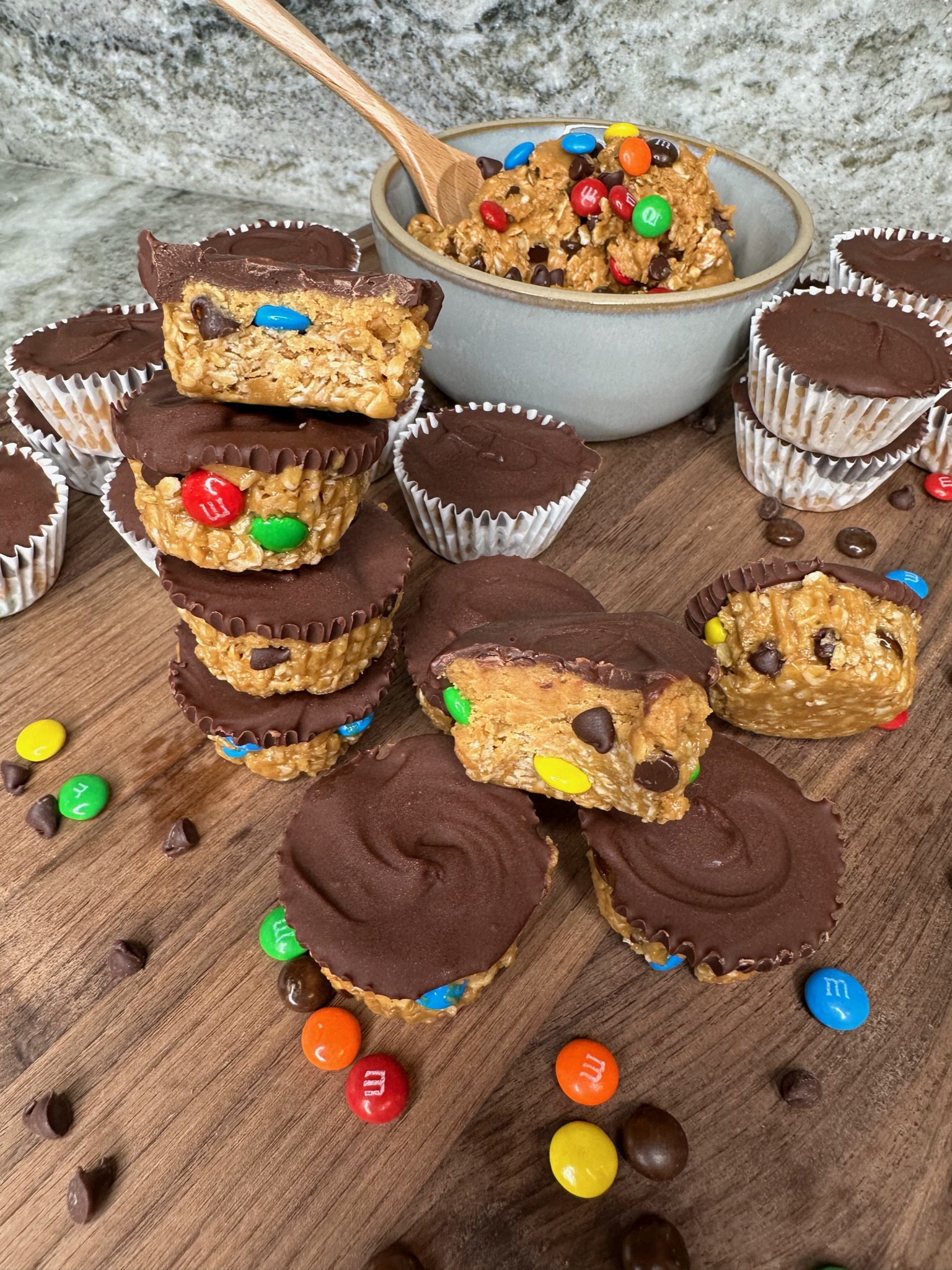 I absolutely demolished the first batch before taking any photos. Let me tell you. I did NOT mind making them again to snap some photos for you all.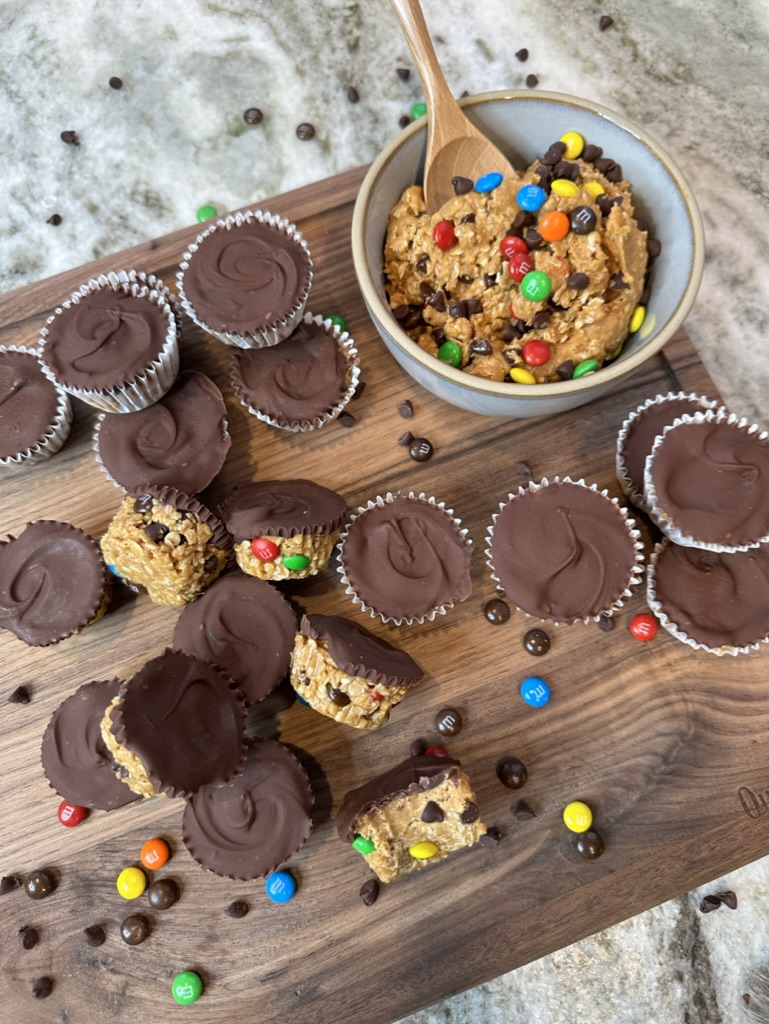 This recipe is perfect for those who have a little sweet tooth but want to pack some solid nutrition into that sweet treat. You can eat them as a snack or dessert, and I promise if you bring them to your friends or family, they will thank you! Not only do these No Bake PB Granola Dough Cups taste amazing, but they also have whole grains <oats> and healthy fats <avocado oil & pb>. Give them a try and let us know what you think!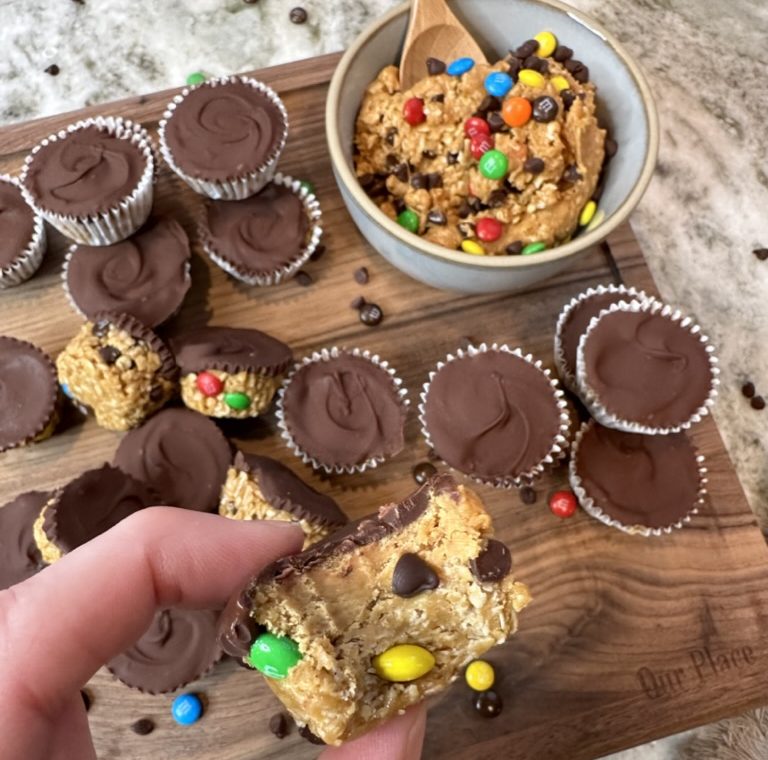 Think of these as a collision of two of the most popular recipes on my site that explode into something epic. Let us know your thoughts when you try them out!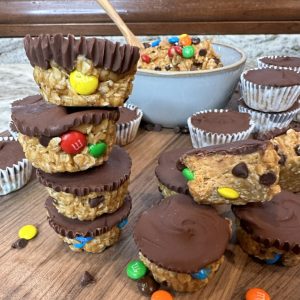 No Bake PB Granola Dough Cups
Ingredients
Granola Dough
1/4

cup

peanut butter

1/4

cup

honey

2

tbsp

oil <I use avocado oil>

1

tsp

vanilla extract

1/4

cup

powdered peanut butter

1

cup

quick oats

1/4

cup

mini chocolate chips and/or M&M's
Peanut Butter Fudge
1/4

cup

peanut butter

2

tbsp

honey

1/2

tsp

vanilla extract

1/4

cup

powdered peanut butter
Chocolate Topping
1/2

cup

chocolate chips

1

tsp

oil <I used avocado oil>
Instructions
In a large bowl, add peanut butter, honey, oil, vanilla & powdered peanut butter. Mix well.

Next, add oats and m&ms/chocolate chips. Stir.

Add mini muffin baking cups to your mini muffin tin or spray with non-stick spray. Divide oat mixture evenly to muffin tins <about ½ Tbsp each>. Press down with the back of your measuring spoon.

In a medium bowl add peanut butter fudge ingredients and mix well.

Add a dollop <about ½ tsp> of the pb mixture in each mini cupcake well, on top of the oat mixture. Smooth out the top with the back of your measuring spoon.

In another medium microwave-safe bowl, add chocolate topping ingredients. Microwave in 20 second intervals, until mostly melted. Stir in between each interval, so the chocolate doesn't burn.

Add a small spoonful <about ¼ tsp> of melted chocolate on top of the pb fudge in each mini cupcake well.

Place in the freezer or refrigerator. Let them cool & harden, then enjoy! <<I like to store in the freezer, but the refrigerator will do.>>
Notes
Other Thoughts
To speed up the time for these to harden, place them in the freezer. 
Store in the refrigerator or freezer.
Feel free to add extra toppings on top of the melted chocolate before it cools. Crushed pretzels, nuts, dried fruit, M&M's, chocolate chips - the options are endless.
How-to-Use
Athletes: Enjoy a couple of these for a snack to keep the hangries away in between meals.
Healthy Eating: Have one of these for a snack or healthy dessert option.
Kids: My kids absolutely LOVE these! Let your kids sprinkle toppings of their choice on top of the chocolate (before it cools).