In these COVID-19 days of cancelled fireworks and limits on social gatherings, let's not forget to celebrate a little – so naturally this means FOOD to so many of us! This crumble is much, much lower in added sugar than typical crumbles or cobblers. Plus, it packs whole grains from the oats and healthy fats from avocado oil and almond meal/flour.
It only seems natural to come up with a red, white, and blue dessert using the summer berries that are in season – blueberries + strawberries. We had a little dispute in our house over what should be the white  – ice cream or whipped cream, so we got them both. But there is a little something special about melty vanilla ice cream over hot berry crumble that'll win me over every time.
This crumble is slightly tart from using less sugar and adding lemon juice and zest. If that's not your jam, cut back the lemon juice and zest by half and add an extra 2 Tbsp maple syrup to the berries <for a total of 1 Tbsp lemon juice, 1/4 tsp lemon zest, & 1/4 cup maple syrup> 
Eat warm. Or, make ahead – store in the fridge and reheat before eating. You can do this by covering with foil and placing in a 300 degree oven until warmed throughout. Enjoy! And, perhaps eat any leftovers for breakfast the best day!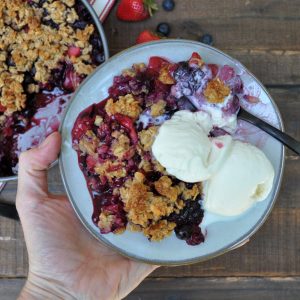 Red, White & Blue Crumble
Ingredients
5

cups

fresh blueberries + sliced strawberries

2

Tbsp

maple syrup

2

Tbsp

lemon juice

1/2

tsp

lemon zest

2

Tbsp

cornstarch

1

cup

old fashioned oats

1/2

cup

almond flour or almond meal

1/4

cup

brown sugar

1/4

cup

avocado oil

1/4

cup

Greek yogurt

1

tsp

vanilla extract

Optional toppings: vanilla ice cream &/or whipped cream
Instructions
Preheat oven to 350 degrees. Grab a 9 inch cake pan or 8×8 or 9×9 square pan.

In a medium bowl, combine berries, maple syrup, lemon juice, lemon zest and cornstarch. Stir to combine.

Pour berries into pan.

Rinse and dry bowl. Add oats, almond flour and brown sugar to bowl. Stir.

In a smaller bowl, combine oil, Greek yogurt and vanilla. Stir.

Pour oil mixture into oat mixture and stir well.

Using your hands, evenly distribute oat mixture over the top of the berries.

Bake for 40 – 45 minutes or until brown and bubbly at the edges.
Notes
Other Thoughts
To zest a lemon you need a microplane, which is a very fine grater. Gently run the whole lemon over the microplane. You just want to take the yellow part off. Stop when you get to the white – this part is bitter.
If you don't have almond flour or meal, you can make it with slivered or raw almonds. Put them in a blender or food processor and blender for a few seconds until a flour forms.
Don't blend too long or you'll make almond butter.
This can easily be gluten free by using gluten free oats.
This can easily be vegan by using nondairy yogurt and nondairy toppings.
Make this into Apple Crumble by using 5 cups of peeled, sliced apples + 1/4 cup maple syrup with the apples + 1/2 tsp cinnamon in the apples and in the topping. I also left out the lemon zest. It's delicious.
How-to-Use
Athletes: I think this could also double as a solid breakfast if you added some protein to it! Top with vanilla greek yogurt instead of ice cream or have some eggs on the side. It might also be a great post exercise snack to tie you over to that next meal. The options are endless, guys….
Healthy Eating: So chock full of goodness and solid nutrition, I'm not sure this even counts as a 'dessert.' Serve yourself a solid serving of this and add just a touch of ice cream or whipped cream.
Kids: My daughter couldn't get enough of this. Smacking her lips, rubbing her tummy, 'mmmmmm' – ing. She thought it was 'deeeewishous.' My son on the other hand preferred the whipped cream straight into his mouth and no crumble. More for us?!