It's no secret we've got a thing for spicy over here! <cue sriracha on my toast every single morning> So, anything that involves hot sauce will always be a favorite recipe of mine. Just like these Buffalo Chicken Meatballs. If you dig the flavors and simplicity of the Buffalo Chicken Mac-n-Cheese or the Buffalo Chicken Salad, you absolutely HAVE to try these meal prep meatball bowls.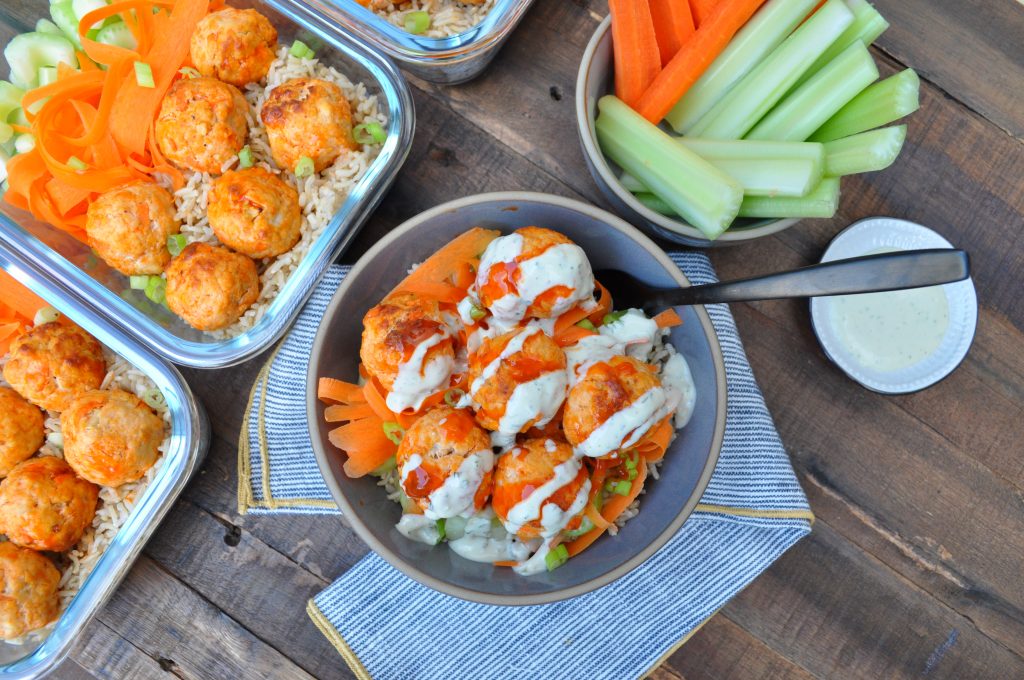 When it comes to ground meat, we have all the options. I personally like ground chicken breast for these meatballs the best. Any ground chicken will do, but I prefer the texture & lack-of-flavor of ground chicken breasts more. Depending on your grocery store, it's not always easy to find. So, if you cannot find it – but want to try it. Toss your un-cooked chicken breast into a food processor or high-powered blender and you can make your own ground chicken breast.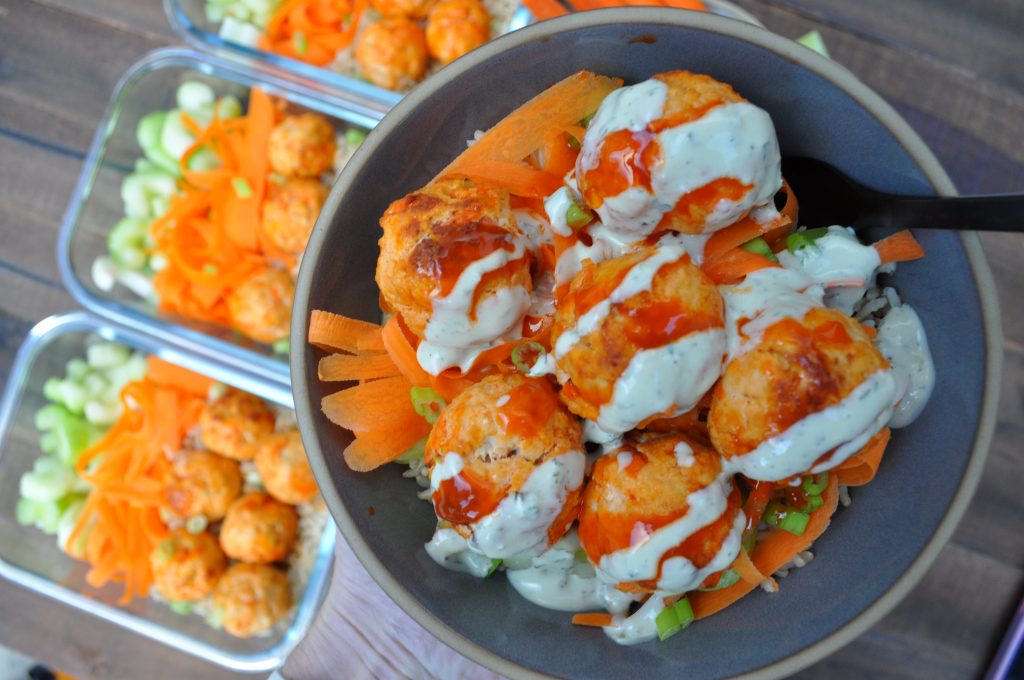 If you have some big eaters around your house and want to make sure you get some leftovers for meal-prepped lunches all week, you may want to double the meatballs! They probably won't all fit in your air-fryer so just bake them in the oven. They turn out just as good and don't take much longer to cook in the oven.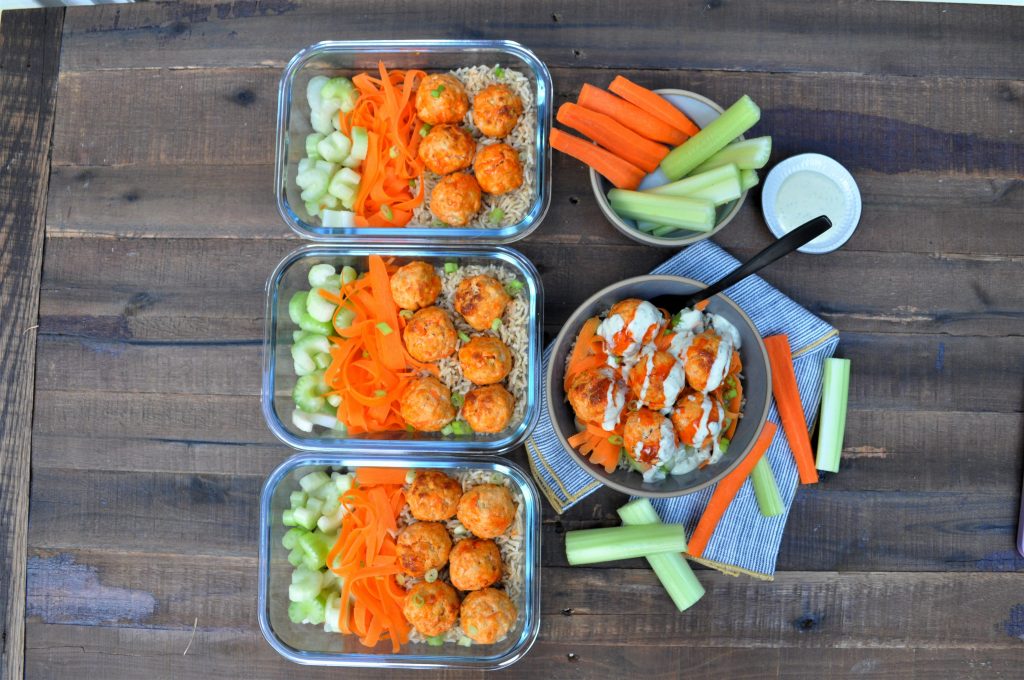 The coolest part about this recipe?! You can make it what you need it to be. Pair with however many carbs and veggies you need to meet your nutrition needs for whatever part of training you are currently in. Running all the miles? Scale up the rice and down the veg. Taking some down time? Scale down the rice and up the veg. It's as simple as that! Enjoy!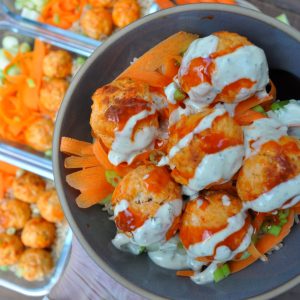 Buffalo Chicken Meatball Bowls
Ingredients
1

lb

ground chicken or turkey

3/4

cup

panko breadcrumbs

⅓

cup

hot sauce, like Frank's

¼

cup

celery, diced

¼

cup

carrots, grated

1

garlic clove, diced

½

tsp

onion powder

1

egg

4

cups

rice, cooked

2

cups

carrots, shredded

1

cup

celery, sliced

lettuce

hot sauce

ranch dressing
Instructions
In a medium bowl, combine ground chicken, panko, ⅓ cup hot sauce, diced celery, grated carrots, garlic, onion powder & egg. Mix well.

Form into 20 meatballs.

Bake in an air fryer on 400 degrees F for 12 - 14 minutes or on a baking sheet in the oven at 400 degrees F for 14 - 16 minutes.

Check a meatball with a meat thermometer & make sure they are cooked to 165 degrees F. If not, cook them until they are.

Toss meatballs in more hot sauce, if you want. If you are saving these for meal prep, I highly recommend this step!

Assemble your bowls: 1 cup rice, ½ cup carrots, ¼ cup celery, lettuce & 4 - 6 meatballs.

Top with ranch dressing before eating. Add more hot sauce if you dare!
Notes
Tips:
Use any grain you want, if rice isn't your thing. 
There are some phenomenal yogurt-based ranch dressings out there. Aldi has the best one! 
Toss these into mac-n-cheese or pasta with garlic butter sauce. Sky's the limit!
Throw them over a salad - or even make a meatball sandwich.
How to Use
For athletes: This is a wonderful balanced lunch for athletes. Many runners need 2 cups of rice at meals - scale your portions for your current training demands.
For healthy eating: This recipe is well-balanced with carbs, protein, and fat. Use this as meal prep to ensure that you stay on track and get solid nutrition at lunch. Scale portions of meatballs <protein> and rice <carbs> to meet your goals. Don't be afraid to add in more veggies! 
For kids: If your kids like a little heat (hot sauce!) they will love these meatballs for lunch or dinner. I always make some without the hot sauce for my spice-averse mini-me.