When it comes to breakfast recipes around here, the goal is always to start the day off with all the things we need – protein, carbs, fiber, flavor, and fun. Add in there easy, peasy and we've got a double winner. There is absolutely nothing easier than throwing together overnight oats. The most annoying part is just putting back all the ingredients afterward. Tough gig, I know.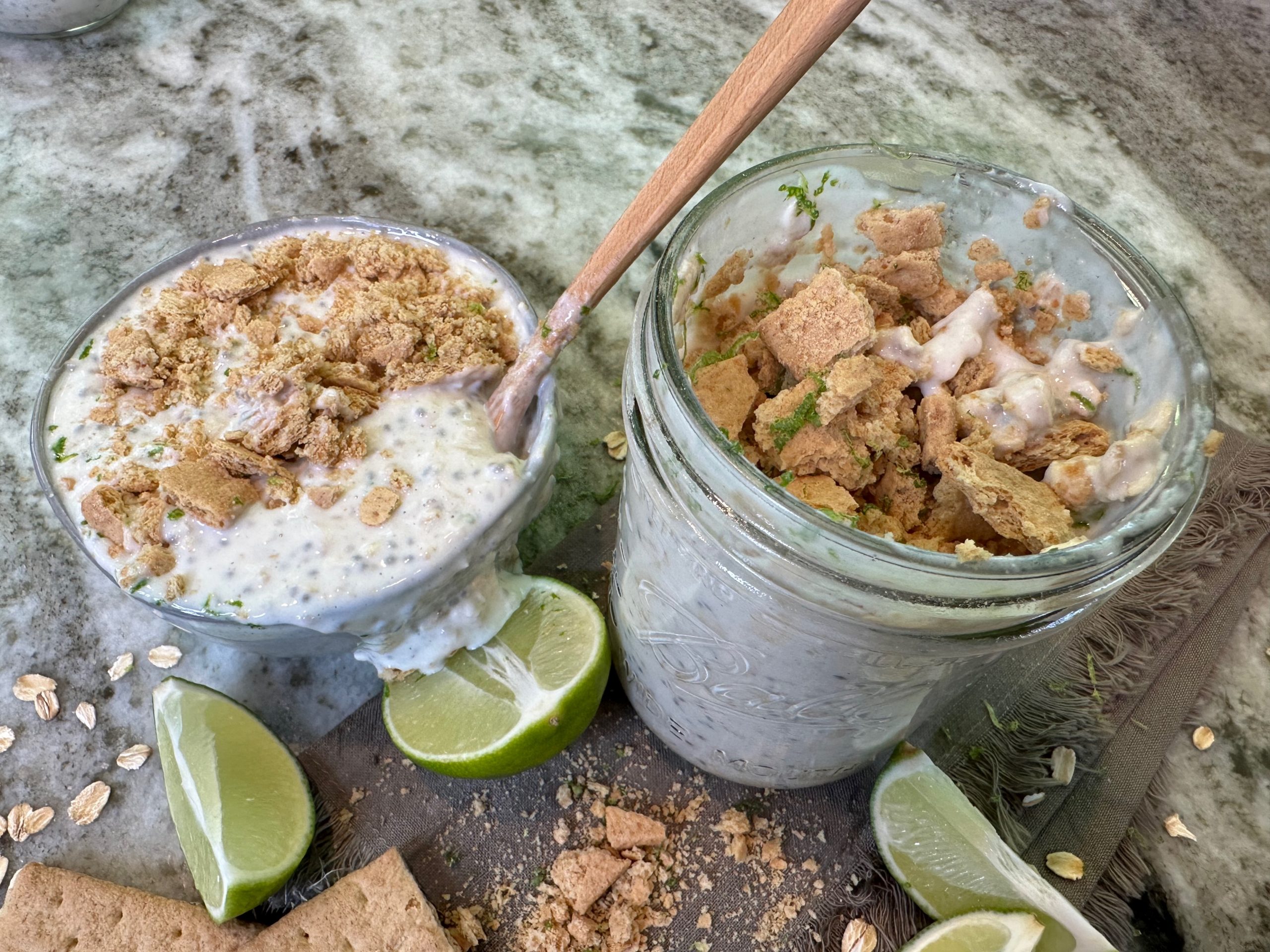 We have two popular Overnight Oats recipes around here already. It's a toss-up which one is the true fan favorite – Lemon Pie or Cinnamon Toast Crunch. Looking at the stats, you all definitely make the Cinnamon Toast Crunch Overnight Oats the most! But why pick a favorite?! Let's throw another option into the mix.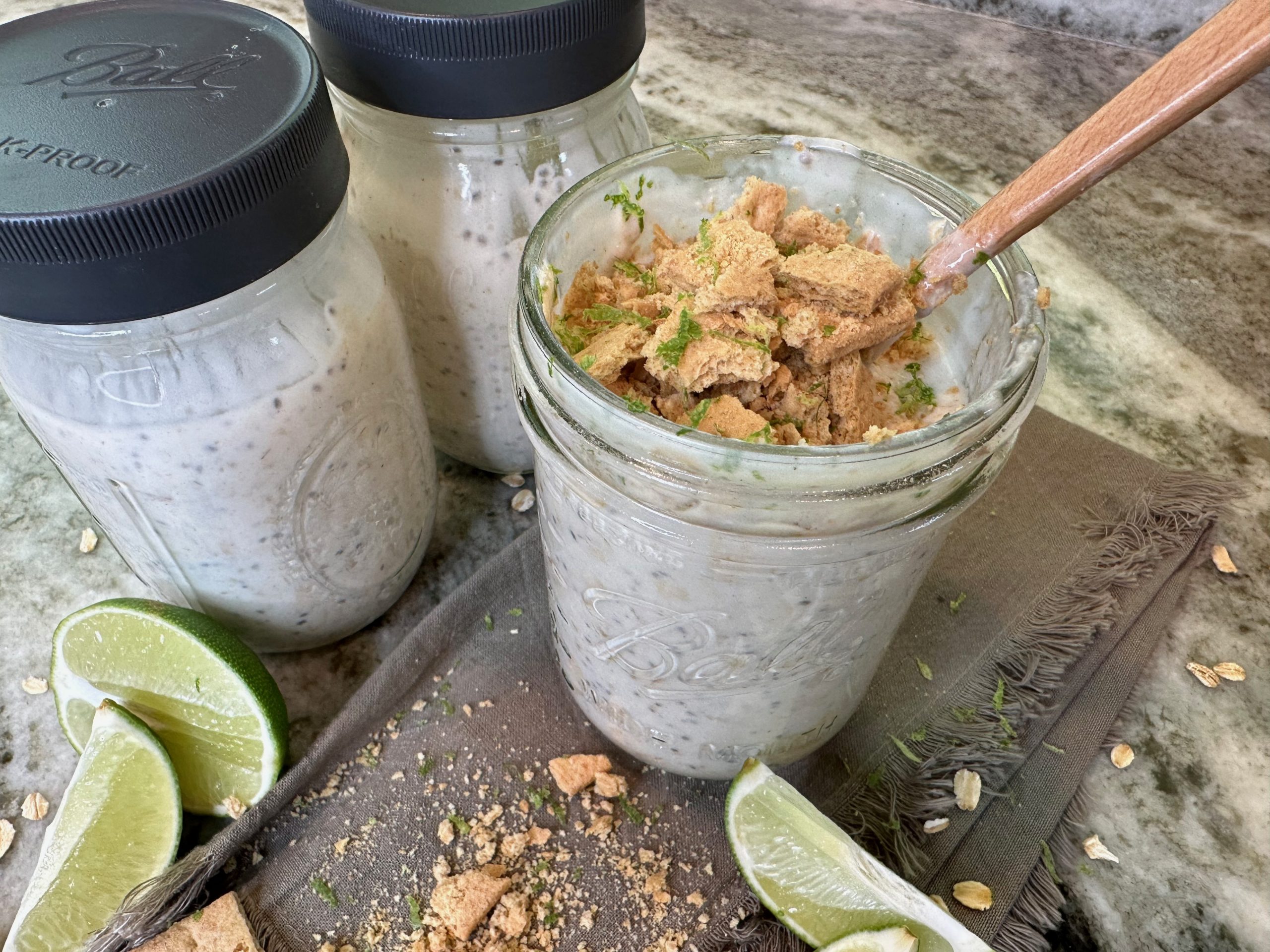 So here it is Key Lime Pie Overnight Oats. Not only is it absolutely delicious, but it's got everything you need to nail breakfast and get out the door or onto life stat. Too often, breakfast is completely lacking in protein. Overnight oats are a super easy way to stuff all the protein you need into a jar. I don't use protein powder in recipes very often. I can always taste it and it changes the texture in quite undesirable ways. Different story here. With the Greek yogurt or Skyr + 1/2 serving whey protein powder + all the other goodness, we are packing 35 gm protein in these bad boys.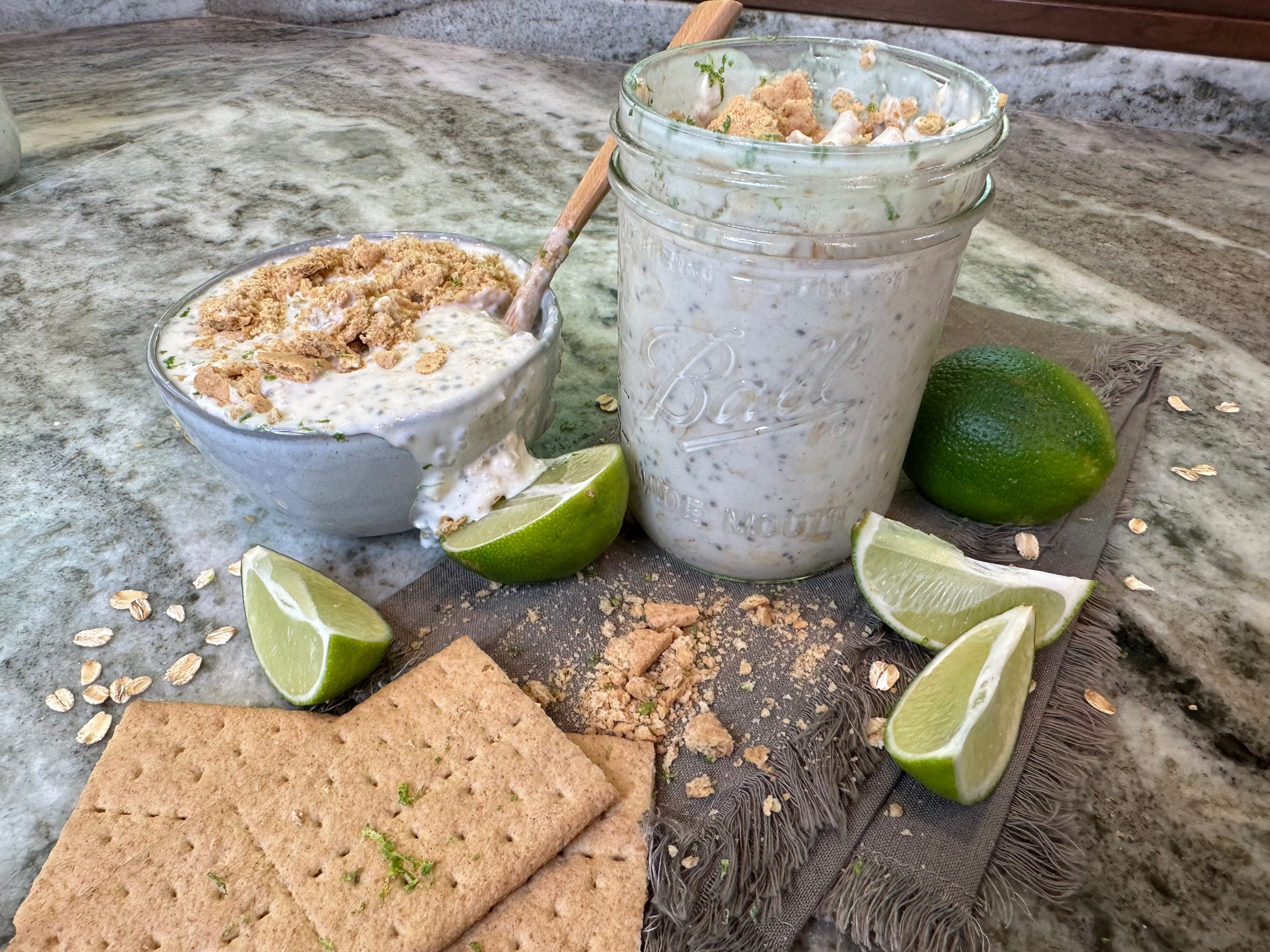 This recipe is very dairy-forward. If you avoid lactose, get yourself lactose-free milk or a plant-based alternative. Greek yogurt is naturally low in lactose that many can tolerate & whey protein isolate is also lactose-free. If you avoid all dairy products, we're going to have to tweak this a lot. Plant-based protein powder needs more liquids added, as it absorbs more fluid than whey, aka your oats will be concrete. Also, plant-based yogurts are typically lower in protein. You may need to add a full serving of protein powder to hit your protein needs – which means you'll need a lot more liquid. I have not tried this – but if you do, comment for others about what worked for you!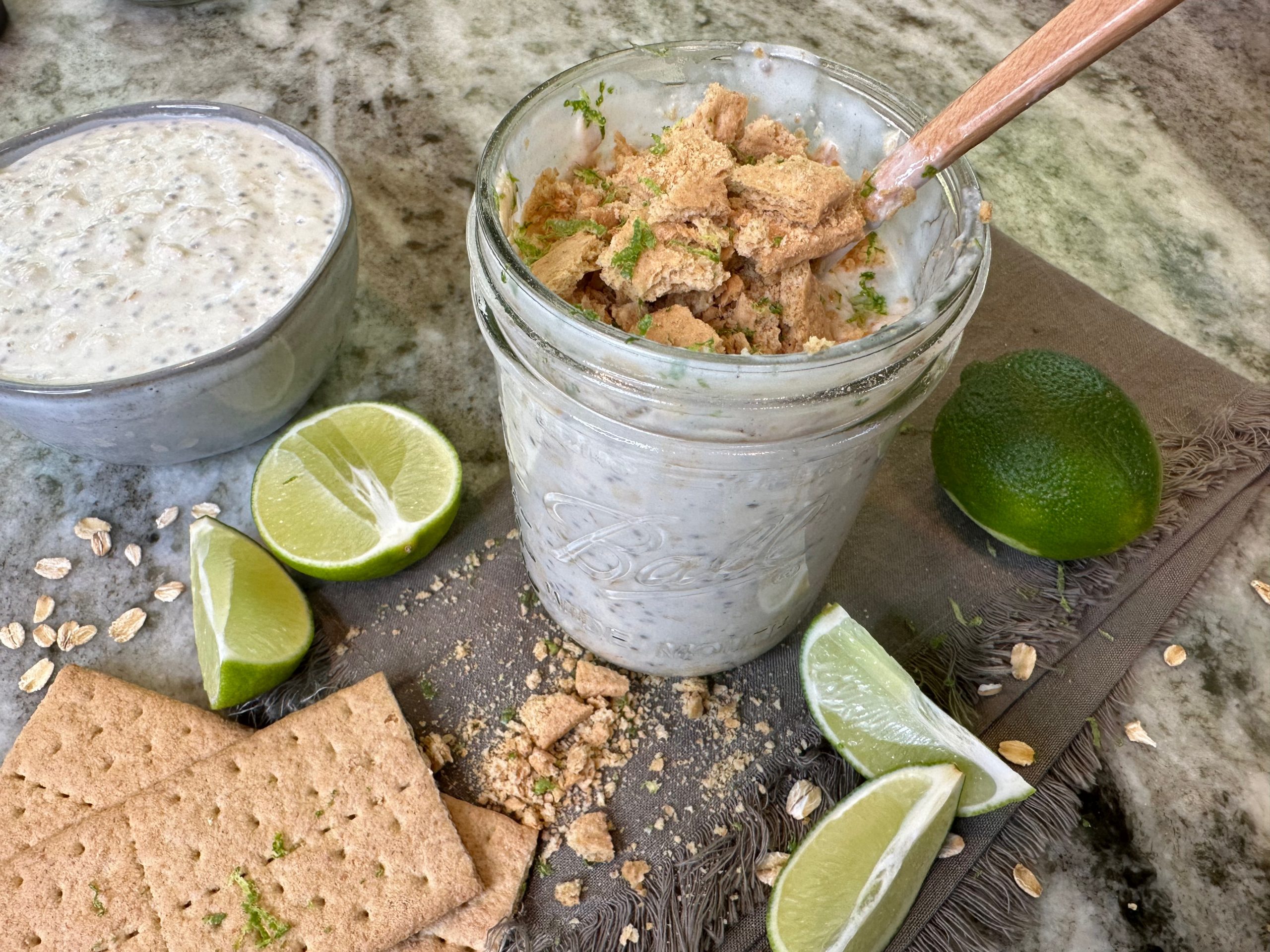 If you're a pro at skipping breakfast because you are short on time, mix up 3 of these at a time and grab one each morning to start your day off right.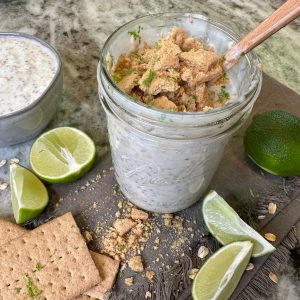 Key Lime Pie Overnight Oats
Ingredients
⅔

cup

Greek yogurt or Skyr, vanilla or key lime

½

cup

milk, your favorite type

1 - 2

tbsp

maple syrup, to your desired sweetness

2

tbsp

key lime juice, or regular lime juice

½

serving

vanilla whey protein powder

½

cup

old fashioned oats

2

tsp

chia seeds

graham crackers, optional
Instructions
Combine all ingredients (except for graham crackers) in a mason jar or container with a lid. Save graham crackers for the topping.

Cover and shake or stir until well combined.

Keep in the refrigerator overnight or up to 4 days.

Before eating, top with crushed graham crackers and enjoy.
Notes
Other Thoughts
I recommend using Old Fashioned oats as they are heartier in the fridge for more than one day. Quick oats tend to lose their texture quickly. 
If you can find the key lime Skyr at your store, do it! But, honestly if not, your favorite vanilla Greek yogurt or Skyr works great too. 
If you want to make this dairy-free, I have not tried it but here are my thoughts. Use 1 full serving of plant-based protein powder, 1/2 cup plant-based yogurt, and increase milk alternative to 3/4 - 1 cup. Plant-based protein powders absorb a lot of fluid. Add more liquid before eating if they get too thick. 
The texture starts to get a little funky if you keep these past 3 days but technically they are save to eat for up to 5 days.
How-to-Use
Athletes: Crush those grahams like you mean it over top of these! As written, you may need more carbs added to this breakfast to meet your total carb and energy needs. 
Healthy Eating: These overnight oats should be just about perfect for most people to start their day. Add 1/2 sheet of graham crackers crumbled on top.
Kids: Make mini versions for the kiddos - or have them try yours before you commit to making their own.