Fact: we love energy bites around here. Also, Fact: we've got more energy bite options around here than favorite running shoes.
If you're new around here and want to peruse the options, we're here for that: Brookie, Salted Peanut Protein Bites, Pumpkin Spice, Mint Chocolate, Birthday Cake & PB Cup Cookie Dough.
Summertime feels got me thinking about the classic S'more and voila, we needed that in energy bite form too! Here is the newest addition to the energy bite gang: the new S'more Energy Bites.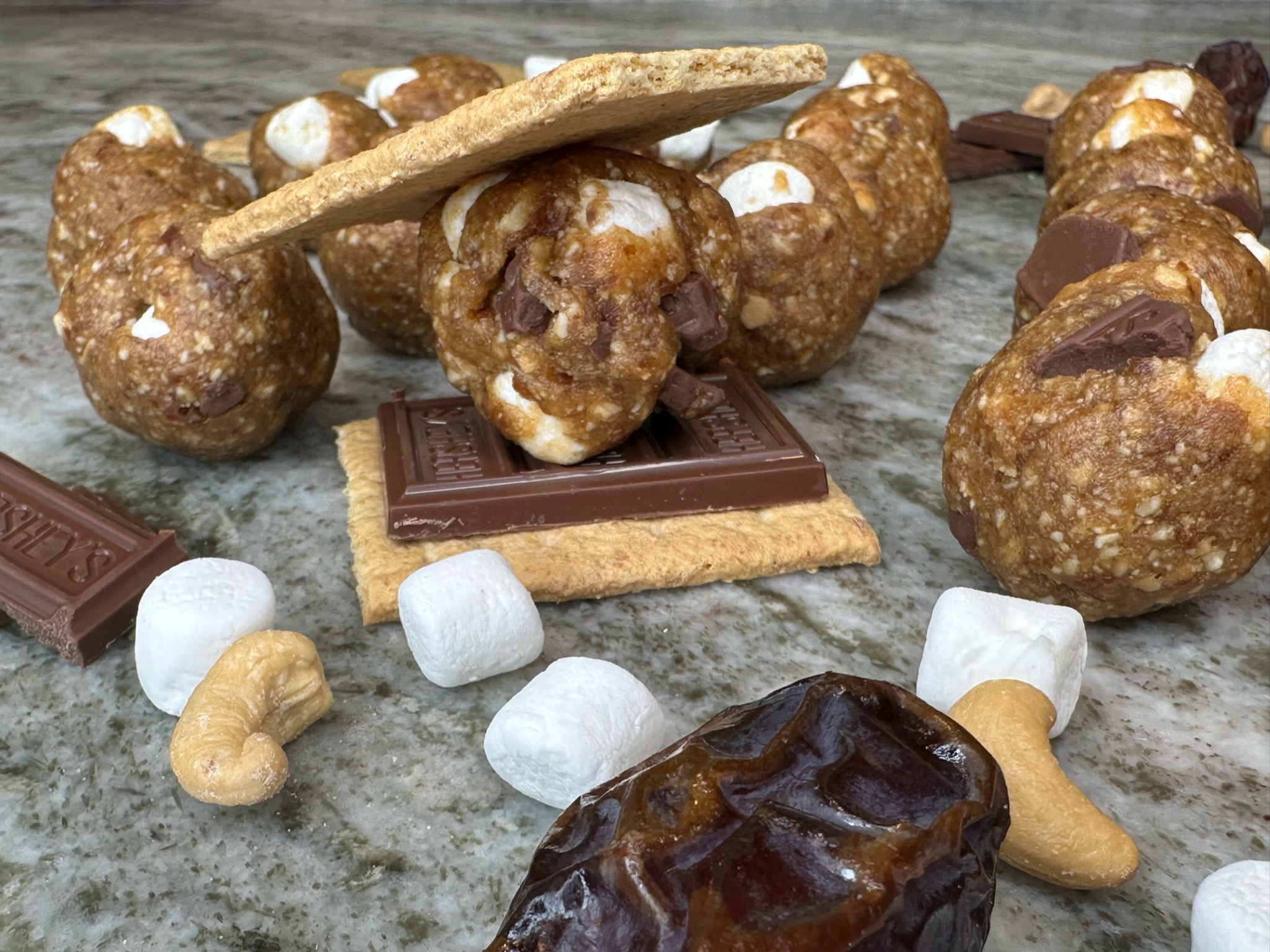 Energy bites are a great option for a balanced snack <carbs, protein, and fat> to keep you satiated and hold you over until your next meal. They are super simple to make – use your food processor to mix up ingredients, stir in your add-ins, and roll into balls. These keep great in the fridge or freezer!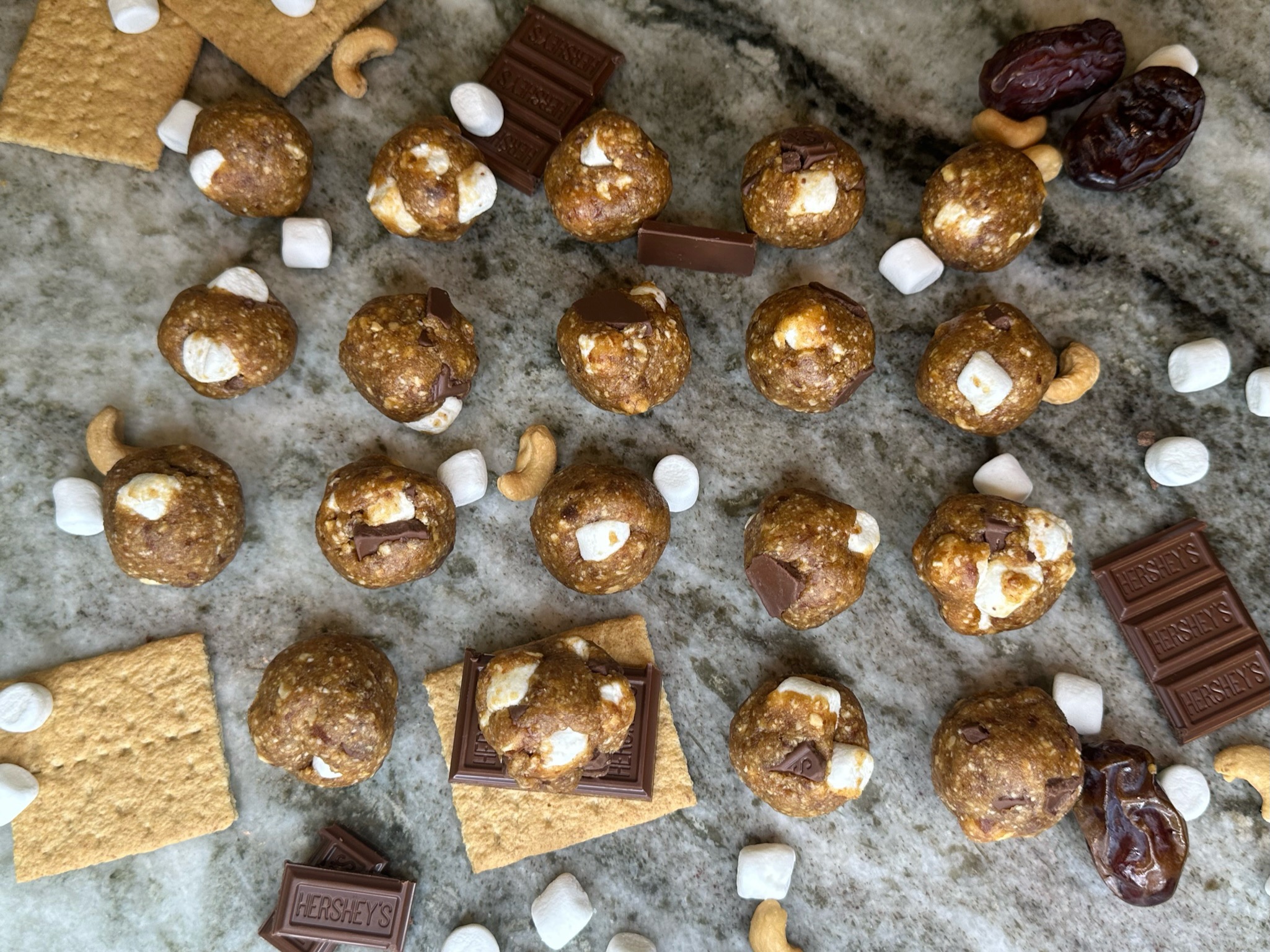 I always like to keep these in my freezer <along with blender muffins> so I always have some healthy snack options on hand. If there are energy bites in the freezer, it's always the kid's choice of snack – and these bad boys have replaced the Birthday Cake Energy Bites for the favorite. Give them a whirl and let me know how they stack up to the rest of the gang!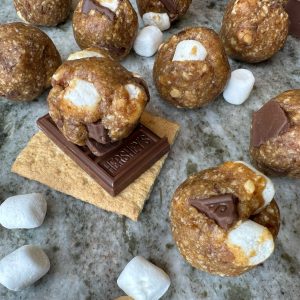 S'mores Energy Bites
Ingredients
1

cup

Medjool dates, pitted

1

cup

cashews, salted

4

sheets

graham crackers

1

tbsp

maple syrup

½

cup

mini marshmallows

1

milk chocolate bar, broken into smaller pieces

<1.55 oz bar>
Instructions
Combine dates, cashews, graham crackers, and maple syrup in a food processor. Break up the graham crackers into small pieces for easier blending. Process until ingredients combine and a ball is formed.

Remove the dough from the food processor. Place it in a bowl. If your dough is hot from the food processor, allow it to cool before adding the next ingredients.

With your clean hands, mix in mini marshmallows and broken pieces of the chocolate bar.

Roll into 18 - 20 balls. If your hands get sticky, wash them off and try again. Pro tip, cool your hands with ice before rolling them or spray your hands with a small amount of oil.

Store in the refrigerator or freezer.
Notes
Other Thoughts
If your dates are old or very hard, you will need to soften them up before blending them in the food processor. You can do this by putting them in a microwave-safe bowl with 1 - 2 Tbsp water and microwaving them until soft, for about a minute. Drain off all the excess water before blending.
If you do not have a food processor, these will be difficult to make! I've heard of people making them in their blender, but that sounds like a sticky mess. Let me know if you master the non-food processor ways! 
If you need these gluten-free, just use your favorite gluten-free grahams. 
Athletes: Enjoy 2-4 of these for a snack in between meals to keep the hungriest away.
Healthy Eating: Eat 1-2 of these as a snack in between meals or when you are craving something sweet, for a healthier alternative.
Kids: Well, my kids ate all of these in under 2 days, so I'm going to take a guess that your kids will enjoy these as a snack, too!